March of the Sequels: Joel Flanagan-Grannemann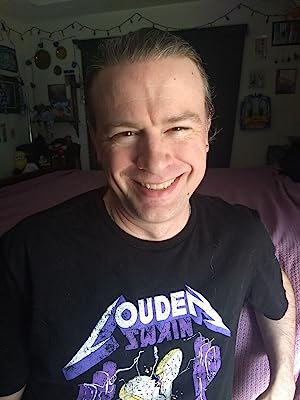 Joel Flanagan-Grannemann
Joel C. Flanagan-Grannemann is a first-time author, but he has been writing since childhood, and has a B.A. in writing from the University of Pittsburgh at Bradford in Bradford, PA. He has lived in Columbia, SC for more than twenty years with his wife and editor, Jay-Jay Flanagan-Grannemann, and a coterie of cats. Joel's day job is Claims Supervisor at a major national retail chain.
First of all, tell me a little about your series and introduce us to the sequel(s).
My Series, Servants of the Moon and Sun, was inspired by the idea: What if Maleficent were Aurora's mother, and what if she wasn't really evil? The first book, Talia: Heir to the Fairy Realm, follows Talia as she meets and falls in love with the Bastile, heir to the Human Realm. The Fairies and Humans have been at war for centuries, and Talia wants to work toward peace. A marriage between the two heirs would be a first step. Hardliners on both sides oppose this alliance, including Talia's three aunts, who are known as the Three Sisters. After falling in love with him, and spending a night of passion with him, Talia discovers that Bastile has betrayed her. The fallout of this betrayal almost leads to the reignition of the Fairy-Human war. Talia is banished by her mother, the Fairy Queen, for one year. Book One follows Talia, her 8 Ladies, and the nine soldiers who accompany her as they flee the machinations of the Three Sisters. Book Two, Talia: On the Shore of the Sea, finds the Ladies and their soldiers, known as The Nine, seeking a place of safety for Talia to have her baby: the half-Fairy child of Bastile, heir to both the Human and Fairy Realms. But the evil of Talia's aunts follows them, spearheaded by a wingless Fairy who has plans of his own.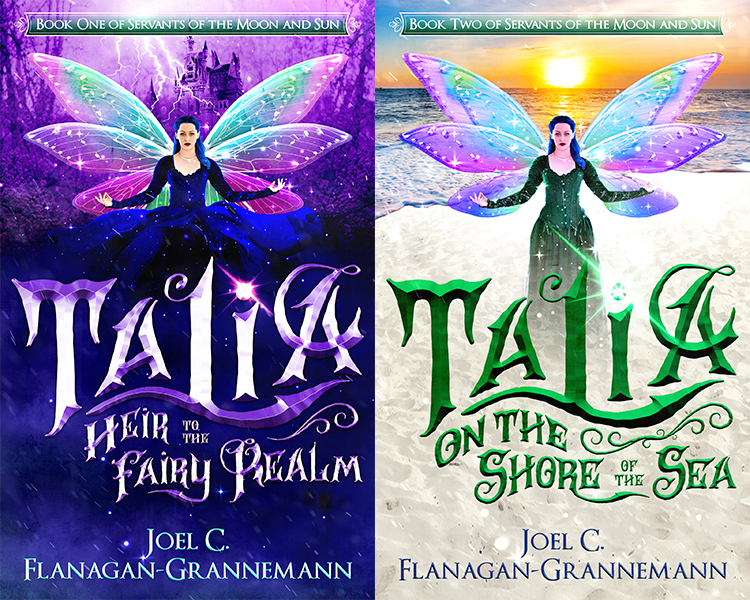 Do you find that most of your readers continue to read the whole series? Why do you think that is?
Heir to the Fairy Realm and On the Shore of the Sea were written together and were split for publication due to their length. Book One ends on a cliffhanger, so to find out what happens next, you have to read Book Two. Together, the two books form the first arc of the Servants of the Moon and Sun story.
How difficult is it to add new characters in a sequel into already established relationships?
I didn't find it hard at all, since the first two books were written together. The third book, which is a Fairy-centric, is being edited now. In this one, some new characters arrive, but many of the minor characters who were introduced in the previous books also have larger roles. The new characters fit very well into the story, filling their roles organically. Many of the new characters have been mentioned or alluded to, but not seen or heard from, in the previous books.
Is it difficult to continue with worldbuilding for a world you have already built in book 1? Do you find it easier to switch locations for the sequel and start again with worldbuilding?
Not at all. I'm just pushing out the boundaries of the Realms and discovering what else is out there. I loved creating the compound that Talia and her Fairies built on the shore of the sea. It was very much inspired by a trip my wife and I took to the Bahamas when I was writing Books One and Two.
Have you ever been stymied by a worldbuilding or plot detail from book 1 that is very inconvenient to deal with or write your way around in subsequent books?
The biggest issue I had with Book Two was how the big betrayal of Talia and her Fairies was going to happen. I went through several ideas in my head before I settled on the one in the book. One abandoned idea was about one of the Ladies being replaced by an agent of the Three Sisters.
Would you say your craft has improved with the subsequent books?
I think I have gotten better at plotting, and have more confidence in writing fight scenes. They will never be on the level of R.A. Salvatore, but that's not where my interest lies.
Do you have all the timeline planned for the full series?
At the end of On the Shore of the Sea, the second book, the characters all move off in different directions. We are editing a book focused on the Fairies now. Two books about the Exile Forest, a place of refuge for Humans and half-Fairies (who are known as Elenites), are written, and await editing. Another book, focused on Talia, is half-written. A book focused on Rose, the wife of Bastile, is also written, and I plan for it to intersect with Talia's story. My — very loose and subject to change — plan is for another Fairy book wrapping up the threads from book three, then a book following Aurora's adolescence and teenage years leading up her sixteenth year and the triggering of the Curse. After that, the story becomes a bit hazy as the various characters come together to figure out how to break the Curse, end the Fairy civil war, and avert continued conflict with the Humans. All while the half-Fairies, in the middle of it all, search for a leader who will unite them and forge them a Realm of their own. I'll have to figure that out as I write it!
Do you have any marketing tips for sequels?
Unfortunately, no, but my wife would love to hear some! I'm just focused on telling my stories, putting more books out, and finding readers who like my style of epic fantasy.
You can find me at www.Servantsofthemoomandsun.com and on Twitter as @ServantsAnd.
At my website, you can join my mailing list and get bi-monthly updates on my books (on the 2nd and the 16th of each month), my work in progress, our cats, and anything else that my wife and I want to throw in. When you sign up and complete the double opt-in process, you'll get a free prequel short story about Talia and her first heartbreak.