Some Thoughts with ... Darran M. Handshaw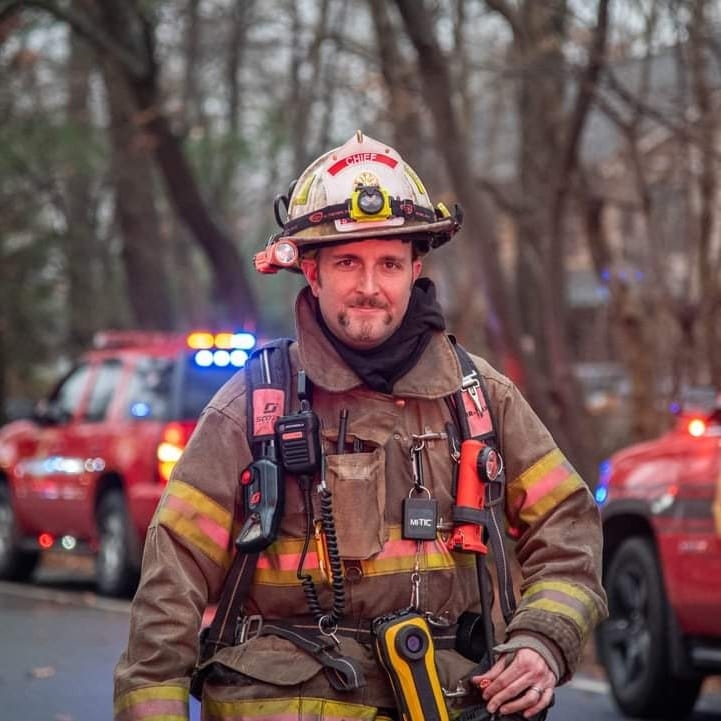 Darran M. Handshaw
Darran M. Handshaw is the author of The Engineer and The Dark Heart of Redemption. In addition to writing, Darran works as an R&D Engineer at a technology company. There he invents and designs new products. He holds more than 70 patents in data capture, vision systems, and emergency services. Darran also volunteers as a firefighter and EMT with his local fire department, where he serves as the Chief of Department. Darran hails from Long Island, NY, where he lives with his wife, Stefanie, and son, Corwin, who fill his life with love, wisdom, and endless adventures.
Hello! And welcome everybody to my favourite section of the blog, interviews with authors. Today we are accompanied by Darran M. Handshaw, R&D Engineer, firefighter, and author of The Engineer.
Let's dive in!
1.- What made you decide on self-publishing?
At first, I'd considered both options, but the self-publishing option and the creative freedom that comes with it was so important to me for this story. The story of Actaeon and Eisandre is of personal importance to me, so I didn't want to compromise on things that an acquiring editor or agent might want to change. With self-pub, you also get the instant gratification of immediate release into the world once it's all edited and fine-tuned.
2.- How did the world of Redemption appear in your head?
It actually appeared in my wife's head first, before she was my wife. Stefanie Handshaw and Simon Svensson came up with the setting of the ruined, high-tech city of Redemption and made it into an online text-based game called Redemption MUSH. I made a character named Actaeon in that game and the subsequent adventure was so incredible that I was inspired to write The Engineer.
It is mostly based on a plot (known as a tiny plot in-game) that I created which took the characters in an epic direction. Since starting to write about the world in novel form, I've had the pleasure of really developing the setting quite a bit more. It is really quite ripe for a number of original sci-fi and fantasy concepts that fit into the world-building nicely. I'm excited to continue to explore that in the future, even beyond Redemption's city limits.
3.- You currently have two books, how would you say it was different the process of drafting one and the other?
Since The Engineer was based on in-game events, it was easier to draft but tougher to write. I wanted to be true to the events that happened but translate them into an easy-to-read novelization. So I had less freedom with that book to come up with plot ideas since most of them had already taken place. The Dark Heart of Redemption was wholly different because I had a ton of freedom to take the plot and characters in a different direction. The events were very loosely based on some in the game, but many of the plot threads weren't resolved or were only vaguely explored. That allowed me the creative freedom to truly explore some new ideas that were unconstrained. I also got to explore a lot of places that weren't built in the grid of Redemption in the game, including The Underforest, The River of Arches, the Sea Caves, Glass Spire, and, of course, Travail. The latter was especially fun because Travail was mysterious and secretive in the game so nobody really knew what was in that building of the Ancients. One of the things I was a bit worried about was whether the ending of Dark Heart would come together in a satisfying way since it was the first time I'd written a novel that, in the beginning, I didn't know how it would end. I was really pleased with how it turned out.
4.- What would you say you learned in the process of publishing The Engineer?
Everything and Nothing. I know that sounds strange, but when you consider that I published The Engineer way back in 2017, over 5 years have gone by. During that time, marketing, the publishing process in multiple places, the copyright process, and eBook formatting changed quite a bit. When I published Dark Heart, there were a lot of things I thought I knew that I had to relearn before I could publish. On the flip side, I had a formatter I trusted, a tried and true editing process, and I knew what needed to be done even if I didn't know exactly how.
5.- Who is responsible for the covers?
The talented Marcin Rubinkowski created both covers. He's a digital artist that's also behind the art in projects like Netflix's Love, Death, and Robots and the game Destiny 2, among others. It was an awesome experience to give him my visions for the cover and see them come to life on such an epic scale. I really knew he did a great job when both of the creators of Redemption MUSH agreed that he managed to draw Pyramid to look exactly as they had imagined!
6.- How did you create the character of Actaeon?
Actaeon Rellios was the Player Character that I created for Redemption MUSH. I was quite inspired by the setting and wanted to create a character who subverted expectations. Act was dabbling with artifacts and inventions like the Loresworn, but was a citizen of Raedelle, a more tribal society on the fringes of the center that looked upon him as an eccentric weirdo and a dangerous person. Act was the sort of character that should have been a Loresworn, but due to his backstory, he was against everything they stood for. Actaeon was inspired by a combination of MacGyver, Hero of Alexandria, Archimedes, and Malazan's Tehol Beddict.
A funny story is that when I created Actaeon, I had him inventing the grenados as part of his background, but the staff made me remove that because they didn't want explosives in the game. When the scene with the slug happened and Actaeon realized he could use slug slime as an explosive, I figured they were now okay with my character using that technology. Later on, I learned from my wife that they were not happy at all that that happened and the staffer who ran that plot got in a bit of trouble! They asked me to invent a creature that would kill giant slugs and thereby limit the explosive material supply. And that's how the horrifying death crawler was born!
7. What was the biggest surprise when writing The Engineer?
I think the biggest surprise while writing was the realization that Knight Arbiter Eisandre sof Darovin, my wife's character, was the true hero of the story. The decisions that she has to make later in the novel force her to make a life-altering choice that many lives depend on. Despite Eisandre's difficulties with being Lost, which is a debilitating mental illness in Redemption where people's minds are plagued by illusions and abstract thoughts, she is able to do something truly heroic. Actaeon does some pretty cool stuff, but when I really sit down and think about it, Eisandre is hands down the biggest hero of the story.
8.- What does Darran M Handshaw like to do in his free time?
A lot! In addition to being a husband and father of a six-year-old, I also serve as the volunteer fire chief for my local fire department. It's a position that is basically like another full-time job in addition to my work as an R&D engineer. Despite all that, I still make writing a priority and manage to fit in a good writing session at least once a week, which eventually results in a finished novel!
Other hobbies I love are Lego, archery (I was inspired to learn to shoot recurve because of Actaeon), hiking, kayaking, and, most recently, bird photography at the bird feeder in my backyard.
9.- What can we expect from Darran M Handshaw in the future?
Quite a bit! I've got more ideas for novels and short stories than I could ever hope to write. In the Redemption universe, I've got two more books planned after Dark Heart, and a prequel that tells the origin story of the mercenary buddies Trench and Wave. At the moment I'm writing a bunch of short stories set in the universe to explore some of the characters and settings even further! I hope to release a collection sometime in the next two years!
I'd like to end by saying thank you for giving my story a chance and for reviewing the book and interviewing me on it. Reviewers and bloggers like yourself are an inspiration to keep writing and the best way to spread the word about indie stories to more readers. Thank you!