Some Thoughts with … E.G. Radcliff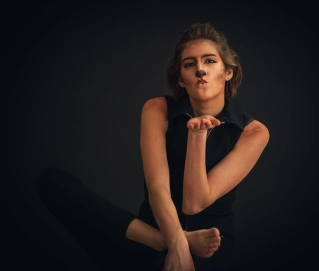 E.G. Radcliff
E.G. Radcliff IS A PART-TIME pooka and native of the Unseelie Court. She collects acorns, glass beads, and pretty rocks, and the crows outside her house know her as She Who Has Bread.
Her Coming of Áed fantasy series was crafted in the dead of night after offering sacrifices of almonds and red wine to the writing-block deities.
You can reach her by scrying bowl, carrier pigeon, or @egradcliff on social media
Welcome to my favourite section of the blog. Today we are accompanied by E.G. Radcliff, author of the dark fantasy series The Coming of Aéd.
Let's dive in!
1.- When did you start writing?
I don't remember when the storytelling urge hit in full, but I must have been very young. In second grade, I invented a world called 'Afipong,' which jumpstarted my love of worldbuilding, and I think maybe I got into writing from there!
2.- From where did you draw the idea for the Coming of Aéd trilogy?
That would be a particularly vivid dream. I woke up late one Sunday with the setting and the characters firmly in my head. I couldn't not write–it was like the opposite of writer's block, it was writer's rush–and so I grabbed a bowl of cold spaghetti and sat down to write all day. After that, I couldn't stop.
3.- Did you expect the success it got, including multiple awards?
Success is something I hoped for, but how could I know? I tried to create a story that was well-crafted and as beautifully packaged as I could make it. I am beyond pleased with the feedback I've received. It takes courage for an author (or any artist) to put their most creative efforts out into the world, and then have them judged. Writers do this every day… I am in excellent company! The encouragement of the writing community helps us all succeed.
4.- What made you decide to go for self-publishing?
At the time in my life when I wanted to publish The Hidden King, I was going through a lot of large-scale changes. I was moving, learning new routines, and lacking a lot of order. That combined with my natural eagerness (read: impatience) made it very important that I be able to set my own timelines, follow my own schedules, and be in control of my own editing, design, and release choices. Quality was important to me, so I made sure I jumped through the same editing hoops as a traditionally published author would have to. Overall, independent publishing was intimidating, but I have a brilliant team who worked with me through every decision.
5.- From where did you draw the mythology for your world?
Much of the mythology is my own devising, but I took significant inspiration from Irish folktales and faerie lore. I was also at times inspired by the characters' names–I actually decided on the name Áed before I decided on the more fiery elements of the fantasy; Áed means 'fire' in Old Irish, and I liked the associations with the character.
6.- At least my impression is that the series is darker than I expected, what would you say about that?
I've been told that the series fits well into the New Adult category, which tends to bridge the gap between YA and adult fiction; it tends to handle darker themes while still being accessible to both demographics.
A couple review snippets that made me smile… «wholesome and harrowing»; and my personal favorite: «It blends darker moments (including torture) into an exciting and wholesome tale.» The contrast in those statements just cracks me up.
7.- Is there somebody you want to thank for your career?
Being a writer starts with loving stories, reading, and books. When I was small, my mother would read books to us at breakfast and dinner that were too hard for my brother and me to tackle (Watership Down, Robinson Crusoe, A Prayer for Owen Meany, etc.). At the same time, she strategically placed doable reads around the house to pique my curiosity. My mother not only read the first draft of 'The Hidden King' and encouraged me to go further, but was a huge asset when it came to admin and navigating the technical elements of publishing. Her encouragement has been invaluable, and so has her honesty.
I also must thank my father, to whom I dictated stories while I was still holding crayons instead of pens. He would give me a prompt—the first part of a sentence—and I would finish it. We would keep going until we had some small story. I think it helped some parts of me understand that stories are actually created, and I could create them, too.
And of course, there are amazing people in the writing community—readers, authors, book bloggers, and podcasters—who have alpha- and beta-read my books and given excellent support and feedback. You'll find them in the acknowledgments of all three books.
I also want to thank my amazing editors, Kelsy Thompson and Margaret Diehl, and my cover designer, Micaela Alcaino, who perfectly visualized my series covers. To say I was lucky to work with these superstars would be an understatement.
8.- What can we expect from E.G. Radcliff in the future?
I'm currently working on a new series–this one will be adult fantasy, with a larger cast, a more vast and complicated world, and more large-scale political powers at play. I'm extremely happy with how it's going, and I'm excited to attempt traditional publication–so don't expect it anytime too soon. When it comes, though, it's going to be fantastic.