Some Thoughts with … Leslie Griffin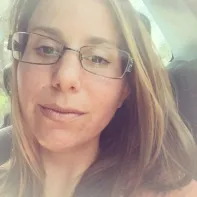 Leslie Griffin
Leslie Griffin lives with her husband, two small children, and their family dog. When not writing, parenting, or keeping her house from utter chaos, she enjoys time outside gardening and going on adventures with her children. She is passionate about early childhood development and education as well as teaching others about Autism Spectrum Disorder.
Welcome to my favourite section of the blog. Today we are accompanied by Leslie Griffin, whose debut Of Water and Dance gives a new twist on epic fantasy.
Let's dive in!
1.- What made you decide to go for the self-publishing route?
I started writing this novel back in 2013/2014. One of the best decisions I made as a young professional was to leave my toxic work environment and pursue my passion in both writing and herbalism. I spent a little over a year writing and editing, and then I dove into the «trenches» of query writing and researching agents/publishers.
However, life has a way of intercepting or detouring the road you are currently on. While I was in the midst of querying, I found out I was expecting my first child. I had a difficult pregnancy and labor with my eldest, that left trauma and postpartum anxiety. I needed time to heal and find my joy again (I did not read or write during this time). Thankfully, I found a great support network, started writing again, became pregnant with my second child, and then my eldest was diagnosed with ASD, Speech Delay, and Global Developmental Delay. I poured every ounce of energy into getting him the services he needed and deserved. We did in home ABA therapy, speech, and OT, you name it. Had my second child, had more delivery complications, found out my spleen needed to be removed, pandemic hit… and then it's a blur.
When I found that I was ready to again refocus on my dream of being an author, I knew that I just needed to get Of Water and Dance published. In the space of a few weeks, I did another round of edits, researched KDP, IngramSpark, eBooks/EPUB, installed Adobe Illustrator, purchased rights to photos and fonts, created my book cover, formatted my documents, and FINALLY got her published.
2.- As stated in the dedicatory, Of Water and Dance is a work of many years, what pushed you into finishing it?
Three things really pushed me to finish it:
First, it's been a dream of mine to be a published author. Since I was in elementary, I've wanted to write fantasy and fairytales.
Second, it was finished. Of Water and Dance had literally been sitting on my hard drive (and USB- I back my stuff up!) for over five years, untouched. It was time to let her go into the world.
Third, I knew that if I didn't self-publish it, I would regret not trying.
3.- Something I appreciated meanwhile reading, is that your writing has a kind of poetic style, how would you describe it?
I sincerely appreciate your description of my style! I always visualize my books in my first draft as I'm writing, and during my editing, I hear it. I read it out loud, I want to feel the rhythm of the writing. I tend to work in the «rule of threes», there's something about it that lends to a more rhythmic depth and can bestow a sort of haunting beauty to it.
4.- The cover has a really particular style of art, could you tell us more about it?
Covers speak volumes to me. They can draw me in, or put me off from wanting to peek at the blurb. I've also noticed that covers go in trends (sort of like opening credits to big shows- i.e. Game of Thrones), but not all trends speak to me. I knew I wanted something mystical, enchanting, with a singular accent color. I wanted it to stand out and (hopefully) be memorable.
When I came upon some tarot inspired art, I knew that I'd found my muse. I purchased the rights to a handful of art concepts and fonts, installed Adobe Illustrator, and went to work. It was an interesting learning curve, to be honest. I went through many different versions before landing on this one.
I don't know if I quite answered your question, and I apologize for that! It's all down to the feel of the cover. I didn't want it to be overwhelming with fonts and colors and textures, I wanted it to be a bit more like a Tarot card.
5.- Could you talk a little about the inspiration of your Gods Pantheon?
I've always been fascinated by Greek and Roman mythology. I loved the idea that each God had areas of expertise, and that each individual would gravitate toward a different entity depending on the time of year, the blessings they were hoping to receive, or the area/temple they were visiting. I also appreciated the concept that the Gods were not perfect, which I felt allowed others to embrace their on individual strengths and weaknesses as well.
There is quite a bit of Greek and Roman influence in my Pantheon. You could even argue that it IS Greek mythology, but with my own twist. We got a glimpse into the pantheon in the first installment, and in the next few books, you will develop a greater understanding of what (or who) locked them in their forest so many centuries ago.
6.- Why is there so much agitation in the country? If I'm right, blood rights work via mother to daughter?
Yes, bloodrights are intended to be passed from mother to daughter, via the womb. However, the Edania you are welcomed into is not one that is honoring this system. In fact, these bloodrights have been neglected for so long, that there is discord among the masses. No one one is certain how the royal line is intended to function anymore, women's body's are akin to property, the birth rate is dropping while the mortality rate is increasing. There is no balance, no willingness at a mediation, everyone is grasping for the last life vest in a sea of drowning people.
This agitation is the culmination of something that happened long ago, something that Evengel is slowly being awakened too. You see her shadow self begin to emerge near the end of the book, and without giving too much away, her shadow self (or counterbalance) is integral to the mystery behind the Leviathan's existence.
The agitation, to put it short and simple, is due to a rift that occurred centuries past within the original royal line. The problem here is that so much has been hidden in stone, and there's yet more to uncover before Edania will find prosperity and peace once more. (Sorry! Can't give too much away!)
7.- What exactly makes the magic work?
I always loved the idea of mortals and gods feeding on one another. Our beliefs and interactions are what keeps the other alive. We survive on different sustenance, so the best way is to maintain a healthy, biodiverse community. We pray, sing, lay offerings, build temples, create shrines, host holidays and celebrations, feeding the gods this belief, love, energy, magic, and in return they bless us with their unique strengths (crops, extra rain, safe passage, mild winters, insight, immunity, etc.).
There is so much more I'd love to discuss, but again, I fear spoilers!
8.- What is this poisoning in the blood that appears at the start?
Ah, yes, Bane's lineage is poisoned due to his family's false rule. This is a key point to the next book, don't you worry. So much will be cleared up.
Again, fate and Destiny are fickle sisters. I'm really excited to delve into a more intimate picture of Bane and Liliat. Allow them the opportunity to discuss the secrets aspects of themselves they'd kept hidden when they were younger, and perhaps rekindle a love that once was so intense, Liliat sacrificed everything she had to keep it safe.
Bane is no longer poisoned. But that doesn't quite solve the predicament he was in to begin with.
9.- What can we expect from Leslie Griffin in the future?
My current work in progress is out for consideration among agents/publishers. It is a time-traveling, highlander romance. I'm incredibly excited about diving into the romance genre, which probably isn't too surprising considering the love stories woven into Of Water and Dance.
At the end of this month, I will begin writing the sequel to Of Water and Dance. I have some tentative titles I'm tossing around, and I'm thoroughly excited to continue writing this story that has taken up residence in my mind for the past eight years!
I also have a slew of other ideas that I'm tossing around. In the end, I know my focus will be on Fantasy and Romance, mostly intertwined.