Some Thoughts with ... M.N. Bennet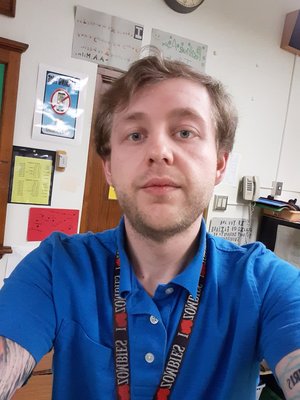 M.N. Bennet
M.N. Bennet is a high school teacher, writer, and reader. He lives in the Midwest, still adjusting to the cold after being born and raised in the South.
He enjoys writing paranormal and fantasy stories with huge worlds (sometimes too big), loveable romances (with so much angst and banter), and Happily Ever Afters (once he's dragged his characters through some emotional turmoil).
When he's not balancing classes, writing, or reading, he can be found binge watching anime or replaying Dragon Age II for the millionth time.
1.- What made you choose self-publishing?
I want to lead with the fact that I'd looked into self-publishing over the years off and on as a backup plan. There's nothing wrong with having backup plans and taking alternative paths, but I didn't want to invest time into self-pubbing if I was looking at it like a consolation prize. It wasn't until 2022 I stopped seeing self-publishing as a backup plan and the actual plan. That change in mindset made a huge difference. I'd shelved several books over the years, and it always stung, but I really believed in Crescentville Haunting. I had a few close calls with some agents and editors which was probably why I kept coming back to Crescentville Haunting even after shelving it and working on my next book.
Ultimately, the reason I chose self-publishing was to keep my joy for writing alive. The industry is an uphill battle no matter what path an author chooses, but I've found so much happiness in preparing books to share with readers, researching ways to grow my platform, and finding potential readers. It's wonderful seeing people who enjoy my voice and style. Since March of 2022 when I officially made the decision to self-publish, I've found myself eager to write, revise, edit, and research all the ins and outs of getting a book ready for publication. There's a ton I still need to learn, and I'm excited about this journey.
2.- Could you tell us about the influences on your book Crescentville Haunting?
Crescentville Haunting actually comes from pieces of an older project I never fully finished. It was years ago, much rougher, and with a completely different cast of characters. It had an interesting lore, but I'd never fleshed it out, except for the seven deadly sins which are where the influence came in for the Vices and Sins in Crescentville Haunting—aside from that, the world was pretty different. I'd say I've always enjoyed stories that explore the seven deadly sins from Full Metal Alchemist to Shazam, so finding my own way to tie that lore into the worldbuilding was fun. I'm also a big anime fan and really loved the world created in Tokyo Ghoul. I'd say there was some influence with Kaneki's journey.
3.- If I'm correct, this is your debut. Which part of the whole process would you say was the most challenging for you?
Marketing. Hands down that feels like the biggest challenge for me moving forward. I don't have a very big platform and I'm not the most comfortable interacting regularly online (something I'm trying to improve). There are other components to book marketing from ads to building readership. These are things I'm trying to slowly cultivate (like adding a monthly newsletter to engage with readers who are interested in hearing from me), and studying what makes for successful ads, and how to be authentic and appealing. It's a struggle but I'm enjoying the journey.
4.- Crescentville Haunting has an interesting mix of paranormal romance and urban fantasy. How did you balance the weight of both aspects in this book?
Thank you! I didn't. Hahaha. Humor aside, there's definitely a lot of push and pull between the romance, the plot, and the character growth. It's always nice to see those elements landed well with a reader but it was difficult finding ways to balance those different components.
More than anything, I wanted to tell a story about Logan's journey to self-discovery and independence. While I absolutely adore Henry Hart with all my heart (and he seems to be a fan favorite—yay!!!), part of what made Logan's story so important to me was that Logan would have to take some of those steps in his coming-of-age story on his own. I also have an obsession with all my characters (major or minor) and really enjoyed the dynamic of building friendships with other people in Logan's life. I think that's why there is a tug between paranormal romance and urban fantasy. Henry's there to save the day sometimes (while being flirty and swoon-worthy) and Logan's working to uncover the many mysteries in his life alongside some new friends who help him understand this path he's on.
5.- The attitude toward Vices from other groups kinda remember me of how some marginalized groups have been treated irl. Could you tell us a little on how you inspired to write this?
I drew my inspiration on how the world in Crescentville Haunting treats paranormal beings from queer experiences in our world. Spoiler, so be ready: Logan's biggest struggle in this book is finding the balance between his paranormal identity and accepting himself for it. His parents very much love him and want what's best for him, so long as he hides and rejects that side of himself. He can have a perfectly happy human life, which will make them happy and keep him safe. That's been an issue for me in my life, having family that loves you, cares for you, wants what's best for you (but not all of you). It's a crossroads a lot of people in the LGBTQIA+ community experience, cutting ties from toxic family members, which can have ripple effects.
It's easy in theory for Logan to cut ties with his family and runaway, but he's sixteen. His whole life has been in Crescentville. He loves his parents and wants their approval, which at the time seems easier to him than sacrificing everything to explore a side of himself he doesn't fully understand and that he knows the world hates anyway. For me, it was a cathartic experience exploring negative family reactions through the lens of the paranormal. Analogies like this aren't for all readers and I completely understand that, but I've always enjoyed seeing real-world social commentary reflected in SFF space.
6.- Could you tell us more about the different Vices?
Definitely. There are seven different Vices in total which ties into the lore about the seven deadly sins or why dangerous, cannibalistic Vices are referred to as Sins. Each Vice connects to a different paranormal identity, some pretty common (vampires, witches, and werewolves) and some a little less common (trolls, sirens, and phantoms).
I wanted to keep up with traditional expectations on some aspects of each Vice, while adding a few alterations in their abilities to tie into the world I was creating. Honestly, I could talk about each of the Vice types for pages and pages. A reader actually made an awesome suggestion that they hoped one day I'd add an appendix or a compendium in a special edition version, which sounds like something I should explore in the future.
Each of the paranormal identities was meant to reflect the vice, so to speak, either through what we know about these particular supernatural beings in other stories or tied into the unique Vice abilities they possess. Without going into too much detail—because honestly, I could ramble on about the lore nonstop—I've included a little breakdown on which paranormal creature is connected to each Vice.
Witches – Pride
Vampires – Gluttony
Werewolves – Wrath
Sirens – Lust
Trolls – Sloth
Phantoms – Envy
Gorgons – Greed
7.- So, your first book is now published. How do you feel about it?
I'm still a little unsure how I feel. Mostly excited. I'm buzzing from finally sending it out into the world. I'd actually written Crescentville Haunting back in 2021. I shelved the project until March of 2022 when I decided to pursue self-publication. I found an editor and we worked on revisions along with polishing up the story in the fall of 2022. I think that's why it hasn't fully hit me yet. I've been waiting for a year since I decided to go into self-publishing to actually share a book with readers. It's exhilarating and terrifying and I hope they enjoy reading Logan's journey as much as I enjoyed writing it.
8.- What can we expect from M.N. Bennett in the future?
I spent 2022 lining up projects and setting deadlines, so readers can expect two more books from me this year. I've already completed edits, cover, and some formatting for my next book, an adult fantasy centering around a telepathic teacher who works at an academy preparing teen witches for professional casting careers. I'm also working on my first round of edits for an adult fantasy romance planned for the fall of 2023, which will be dual (duel—they are enemies to lovers!) POV between a mage and a devil. I'm already looking forward to 2024 and getting projects set up. It's a lot of work but I'm loving every part of this journey.
Other things to expect from me—I'll be doing a cover reveal on April 27th! It's been sooooo hard sitting on this cover because I just want to share it with everyone.