Some Thoughts with ... Sadir S. Samir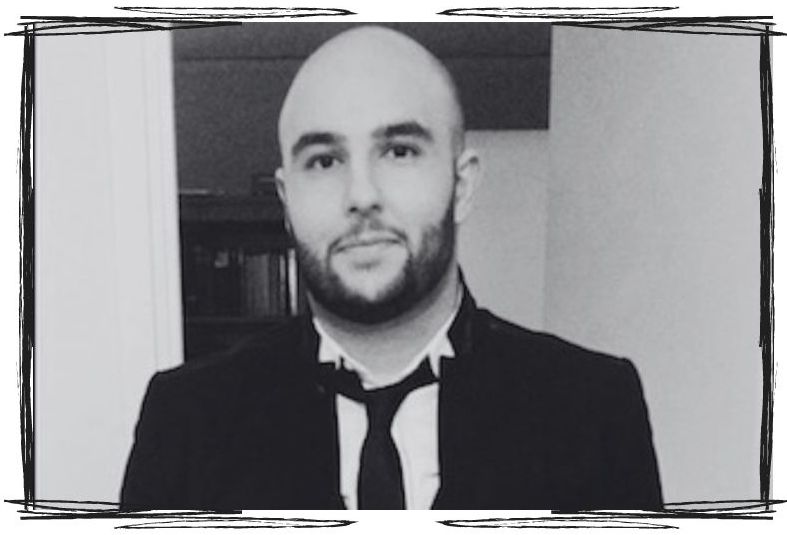 Sadir S. Samir
SADIR S. SAMIR spent his first years in the Middle East before moving to Sweden. A passion for storytelling manifested early in childhood, and he always knew that would be his guiding light in life growing up. That passion eventually led him to the video game industry where he's been working as a game writer and a producer for over a decade. Now he lives in the medieval city of Uppsala, where he writes tales of the fantastical and bizarre.
Welcome to my favourite part of reviewing books, talking with the authors. Today, our guest is Sadir S. Samir, author of The Crew, the first book in the God Dust Saga.
Let's dive in!
1.- What drove you into writing a novel?
I have always had a strong passion for telling stories to be honest. I started reading at an early age and soon thereafter began drawing and writing small comic books for my friends to enjoy. In middle school I wrote 50-page prose story, and my classmates would want me to read it aloud to them during breaks as soon as I finished a chapter. So storytelling has always been a part of who I am, but it took many years and exploring different paths before I finally realised my medium of choice is books.
2.- You have also worked as a video game writer, how would you say it is different from writing a novel?
I talked a bit about this over at the Queen's Book Asylum so I recommend checking out that interview: https://queensbookasylum.com/2022/11/29/the-crew-interview-with-sadir-s-samir/. It was a fun interview and you'll also learn about my death match with an octopus in Australia.
3.- Which challenges would you say have been the most difficult you had while writing the Crew?
Imposter syndrome and self-doubt plague every author, and writing something comedic adds another level to that pressure. Will readers actually enjoy my style of humor? Is this too weird and zany? But in the end, I decided to be true to who I am and write the book I wanted to write. Based on the reception thus far it seems there's indeed a place for my style of storytelling in the fantasy genre, and I'm so, so incredibly thankful for that. I want people to have fun and go on an adventure when they read my books. Hearing I made someone laugh or smile I just the best feeling.
4.- How did you choose your editor?
I have known about Sarah Chorn for years, and know many of the authors she's worked with. So it was a no-brainer for me to contact her when the time came to find an editor for the book. I can't recommend Sarah enough to anyone looking to hire an editor. She's fantastic at what she does, and a wonderful person on top of that.
5.- What inspired you to write a novel set in the Middle East?
My parents are both from Iraq and I lived the first years of my life in the Middle East before we moved to Sweden, so the idea to create an Arab-inspired fantasy setting came naturally.
6.- I have to admit that Dusters' powers are crazy and fun, how did you got the idea for them?
Haha, I'm glad you like them. Almost all of my ideas come from my subconscious as I'm writing. I didn't think beforehand what the different powers for each Duster would be - hell, I didn't even know there would be Dusters in the book! I'm finding out at the same time my main characters are in the heat of the moment. It's honestly my favorite part of writing and is the closest feeling to the magic that I have ever experienced.
7.- The way Dusters' gets their powers remember me to hassassins order, do you think it may have inspired you?
I'm very familiar with the hassassins, but I didn't consciously draw from them for the Dusters. However, I have another story idea in my head that is directly inspired by the hassassin order.
8.- How did you end with the idea of Demons? Would you say it is also a metaphor for racism?
The demons and everything about them happened on the fly, so it wasn't something I had planned. I would absolutely say there are themes of racism in regards to the demons and their struggles to fit in, as well as the conflicts with the human citizens. That aspect I something I have very personal experience with being a refugee growing up in Sweden.
9.- Will we get to know more about the origin of God Dust in sequels? Or maybe a standalone?
We will delve deeper into the origins of the God Dust in the next book! We might also get to see the place where the God Bones are mined.
10.- What can we expect from Sadir S. Samir in the future?
Many more books set in the God Dust Saga universe for sure. I have so many ideas about where we'll get to explore different parts of the world. Some will be standalone and some will be series. But for now, my focus is to finish this particular trilogy that started with THE CREW. I aim to release the sequel next year!