A Canticle for the Fallen (Aria of Steel #2), by Steven Raaymakers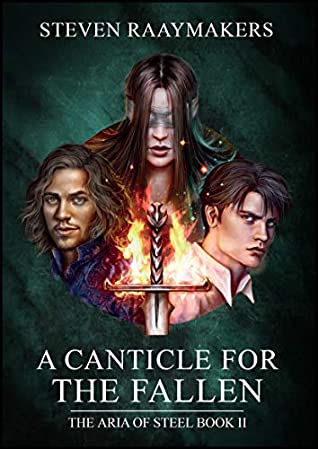 Synopsis:
How far would you go to change the past?
A grimdark coming-of-age revenge story with a Sanderson-esque magic system.
Raziel faces tough decisions in this blood-drenched sequel. After four years in exile, Raziel is forced back to his homeland.
The return of old friends and new enemies adds to his troubles. Once thought only the stuff of legend and nightmare, the rise of the hated 'warchildren' and their dark magic forces Raziel and his companions to live as fugitives in their own land.
They must face their mortal enemies and inner demons or succumb to the darkness. But when a mysterious woman offers Raziel a chance to change the past, will fighting be enough?
The 'Aria of Steel Trilogy' is a heavy-metal power ballad of clashing blades, blood-soaked betrayal, and sweet revenge. Who will win? Who will survive?
My Review
(4.5 out of 5 )
A Canticle for the Fallen is the second book in the Aria of Steel trilogy, this coming-of-age epic fantasy series by the kiwi writer Steven Raaymakers. Situated four years after the end of A Canticle of Two Souls, we are going to be following Raziel, being this book darker than the first one, but equally engaging.
This new Raziel, who is exiled after what happened in the first Canticle, is forced by necessity to return to his homeland. Warchildren now are fugitives, persecuted by the people due to their dark magic; in these circumstances, Raziel gets to know Velran, another warchild that becomes the companion of our MC, and who sometimes acts to the lack of control that Raziel has.
An opportunity for redemption appears for Raziel, to change his past, and that's the main source of the internal conflict of our protagonist, having to weight the cost and the sacrifices he will need to do in order to get these changes done. Raziel has become more mature in this book, taking care of his companion, and taking the lead of the group, something that he didn't do in the whole first book.
The magic system gets more developed, revealing the real nature of the warchildren magic and how it works in reality. The excellent descriptions of battle scenes are carried from the first book, making them really vivid; the story becomes darker and grimmer, all of these without affecting the pace, keeping the fast style that made the first book so engaging. This whole plot leads to an ending that honestly, surprised me so hard (and I don't want to spoil it) but that touched a nerve.
In summary, I think that if you liked A Canticle of Two Souls, you will love A Canticle for the Fallen. The Aria of Steel is a perfect trilogy for grimdark lovers, those who don't fear a little bit of battle and blood. Can't wait to see what Steven has in A Canticle of War.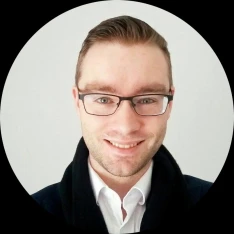 Steven Raaymakers
Steven Raaymakers is a fantasy author from New Zealand. He writes character-driven stories with unique magic systems.
A lawyer by trade, Steven reads and writes all day. In his spare time, he plays story-driven games, listens to melodic death metal, and reads a ton of books from every genre.