A Canticle of Two Souls (Aria of Steel #1), by Steven Raaymakers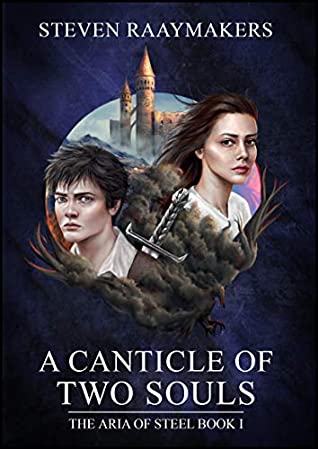 Synopsis:
A magic sword forged of a demon. A broken boy seeking revenge.
A grim coming-of-age revenge story with a Sanderson-esque magic system.
Raziel watched the Rhotian Empire slaughter his family. When a sentient sword promises him the head of the emperor, Raziel carves a bloody path in an epic journey across a land filled with banshees and mercenaries in pursuit of his revenge.
But forced to travel with a strange young woman with a dark past, will Raziel even reach his destination?
Alicia has plans of her own. Gifted with a terrible magic that can bend others to her will, she also has revenge on her mind and Raziel in her sights. Can two enemies put aside their differences to seek a higher goal, or will mistrust and inner-demons condemn their fates? Magic is a dangerous thing. So is hope.
The Aria of Steel Trilogy is a heavy-metal power ballad of clashing blades, blood-soaked betrayal, and sweet revenge. Will you walk away or join the fight?
My Review
(4.5 out of 5 )
A Canticle of Two Souls is the first book in the Aria of Steel trilogy, by the kiwi writer Steven Raaymakers. It's a coming-of-age epic fantasy style of novel, and it has a really interesting use of some uncommon tropes in the genre which I really appreciated as a reader.
The story opens with a high-action scene, showing us how Raziel, a mysterious orphan who solely beats and kills himself a group of soldiers while wielding a black sword. This scene serves a double purpose in my opinion: first of all tells us, the readers, that we are on the verge of a grim world, that this book is going to be dark at some points, and also serves as an excellent introduction for Ultio and her influence on Raziel. Because effectively, the sword is sentient, actually really powerful, and a central piece of the novel. And let me stop here for a moment because I think this is one of the most unusual tropes in fantasy, as usual weapons, if anything, tend to have magical properties; but the concept of sentient weapons is kinda unusual, and this is one of the points where Raaymakers' writing shines.
In some pages, we are also introduced to our second main character, Alicia, a warchild who after all the trauma has developed some sort of mind control powers, and who will form a really weird company with Raziel, keeping him under her control and trying to keep his mind clean of the Ultio influence. All of this at the same time they are traveling in the search of revenge, despite not knowing fully the secrets of Raziel.
The plot advances at a really fast pace, as this is a rather short book in comparison with the standard of the genre, but letting some great intimate scenes between Alicia and Raziel, making them grow into the readers and cultivating the relationship between them, making this sort of union less forced and more something they want to maintain. And partly, this is also a part of why you start caring for the characters and empathizing with them. I'm not prone to include spoilers in the reviews, as I prefer them to be possible to read carelessly, but all this building makes the end more impactful than it could be if we didn't have any emotional attachment to them.
Worldbuilding is solid, being used the trope of the journey as a way to show different places and foundations of the universe we are going to experiment for a full trilogy, introducing certain elements of grim and dark that are rather unusual in the classic epic fantasy. There are also some unconventional choices, such as the power of Alicia, which allows her to perceive emotions in the form of melodies; and the fact that actually Raziel has relatives that will have an important role in the story's development.
In summary, reading A Canticle of Two Souls left me with a really good taste after finishing. It's a perfect mix between epic fantasy and some dark elements; using also some uncommon tropes and subverting the most classic ones. We will return to this world next month with the read of A Canticle for the Fallen.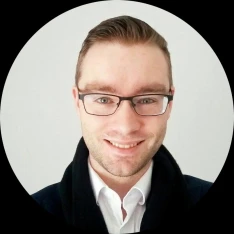 Steven Raaymakers
Steven Raaymakers is a fantasy author from New Zealand. He writes character-driven stories with unique magic systems.
A lawyer by trade, Steven reads and writes all day. In his spare time, he plays story-driven games, listens to melodic death metal, and reads a ton of books from every genre.