A Fire Born of Exile, by Aliette de Bodard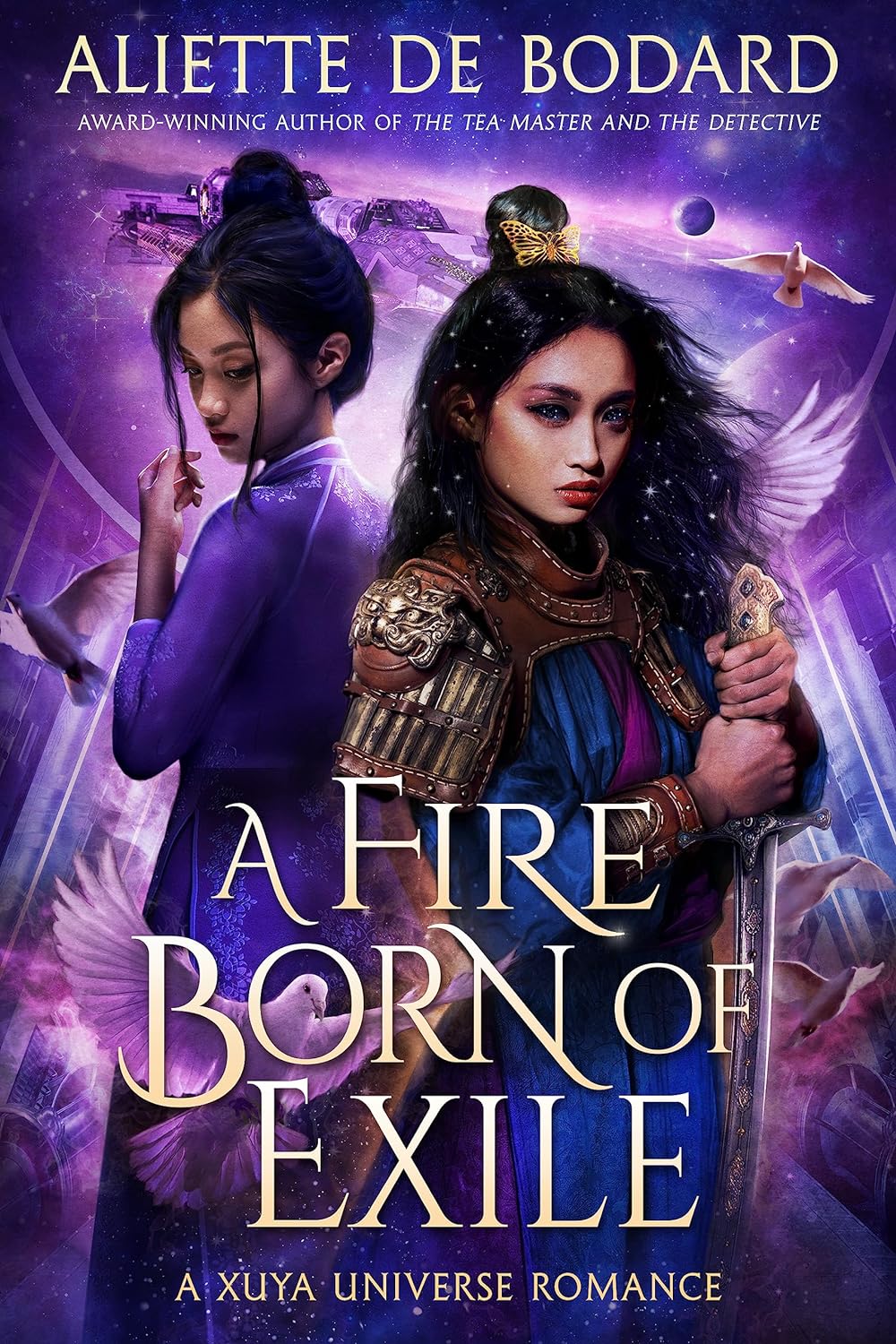 Synopsis:
The Scattered Pearls Belt is a string of habitats under tight military rule . . . where the powerful have become all too comfortable in their positions, and their corruption. But change is coming, with the arrival of Quynh: the mysterious and enigmatic Alchemist of Streams and Hills.
To Minh, daughter of the ruling prefect of the Belt, Quynh represents a chance for escape. To An, a destitute engineer, Quynh has a mysterious link to her own past . . . and holds a deeper, more sensual appeal. But Quynh has her own secret history, and a plan for the ruling class of the Belt. A plan that will tear open old wounds, shake the heavens, and may well consume her.
A beautiful exploration of the power of love, of revenge, and of the wounds of the past, this fast-paced, heart-warming space opera is set against a backdrop of corruption, power and political scheming in the far reaches of the award-winning Xuya universe.
A Fire Born of Exile is the second full-length novel set in the Xuya universe created by Aliette de Bodard, a standalone story which features a complex plot of revenge and love, a sapphic retelling of the Count of Montecristo. In the Scattered Pearls Belt, the powerful have become too complacent and comfortable in their positions; but change arrives at the hands of the mysterious Quynh, the Alchemist of Streams and Hills.
Disguised in her new identity, Quynh has returned to the Scattered Pearls Belt with one objective in mind: getting revenge over the Prefect that destroyed her family fifteen years ago. However, once her path crosses with Mihn, the rebellious daughter of the Prefect, and with Hoa, a technologist whose past is related to Quynh's, her determination to sacrifice everything in order to achieve revenge will become a more complicated question, including her new love.
Bodard has proven another time her ability to craft compelling and complex characters, with relationships full of nuances and subtleties; Quynh is heavily marked by her past, but no more than we will end learning about Hoa. In comparison, Mihn is suffering under the weight of her lineage and the expectations puts over her; Mihn sees Quynh as her possibility of achieving freedom.
As we could expect from a Bodard's work, those relationships and characters will be continually developed alongside the novel, even in the smallest of details.
While we could say the plot might be a bit predictable in the big picture (at the end, this book is pitched as a retelling), is the way of reaching certain points and the questions asked during the novel what makes this a special story. Outside of the value of revenge, we can see other themes discussed as the limits of justice and the censorship exercised over scholarship.
The sapphic romance subplot is well blended into the mix, being subtle and exploring the deepest parts of our character, being an entry point to their vulnerabilities.
The worldbuilding continues expanding the Xuya universe created by Aliette de Bodard, this science fantasy empire inspired by Chinese and Vietnamese traditions, which influence many aspects of it, from the food and tea to the power structures. It's certainly not the focus on this novel, but still Bodard manages to weave a rich background which enhances the story told.
A Fire Born of Exile is an excellent novel, another of those must read books written by Aliette de Bodard; if you like science fantasy and complex thrilling plots, it's a perfect novel for you. Won't be the last book I read from her!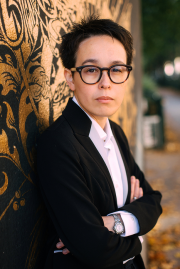 Aliette de Bodard
ENGLISH: Aliette de Bodard lives and works in Paris. She has won three Nebula Awards, an Ignyte Award, a Locus Award, a British Fantasy Award and four British Science Fiction Association Awards, and was a double Hugo finalist for 2019 (Best Series and Best Novella).
SPANISH: Ingeniera informática y escritora, actualmente vive en París. Ha ganado varios premios, entre ellos tres Nébula, un Locus y cinco de la Asociación Británica de Ciencia Ficción. Medio francesa y medio vietnamita, siente un interés especial por las culturas no occidentales, en concreto por las de Asia y la América precolombina.
Entre sus obras más celebradas se encuentran La maestra del té y la detective (Premio Nébula y British Fantasy Award 2019), Three Cups of Grief by Starlight (BSFA 2015) y Fireheart Tiger (BSFA 2021). Es además autora de la trilogía Dominion of the Fallen, ambientada en un París posapocalíptico y de la cual forma parte la premiada The House of Shattered Wings (BSFA 2015). En 2019 sus relatos del Universo de Xuya fueron nominados a la mejor serie de los Premios Hugo y su novela In the Vanishers' Palace a los Lammy.