A Handful of Souls (The Split Sea #1), by Stephen Rice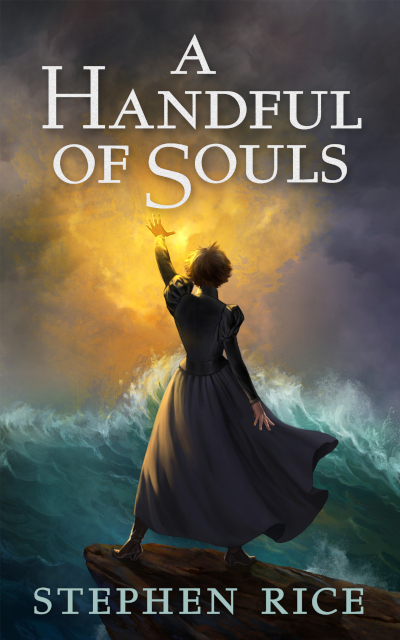 Synopsis:
Mud, gold and lies. That's all you get in Branera. You'll find no better expert on these things than Lily Kale-Tollworth. Yet she has no clue of the events already in motion around her.
Weeks ago, a murderer with a bleeding grin was released from the Mountain Head. Lily doesn't know this pale-skinned giant has been writing to her. She doesn't even know he's coming to find her. But as her father, Husker Tollworth feels like it's his right.
Days ago, a tax patrol was slaughtered. Lily doesn't know her brother's corpse was pulled from a ditch, stolen by a man who can raise the dead. Lark Kale-Tollworth will follow this bizarre scholar to the Southlands. He will forget how many times he's died.
Hours ago, an informant showed Lily's stepfather an incriminating note. Branera has taxed its villages too hard. An uprising is massing in the Northlands – and they have a noose with Josef Kale's name on it.
At this very moment, Josef is frantically packing their coach, while Lily is drinking whisky in a brothel. She's met the arrogant idiot who will be their guide south. She doesn't know he has a hollow soul, filled with thousands of spirits. She doesn't know his mouth is filled with as many lies.
But if there are three things Lily's good at, it's mud, gold, and lies.
My Review
(4.75 out of 5 )
A Handful of Souls is the debut novel from the English author Stephen Rice and certainly, a unique book in the way it takes some themes. Defining its genre is certainly something kinda difficult, so I think the best way to define it is by making ours the term used by the own author «family grimdark», as certainly we are going to follow the story of the Kale-Tollworth family, and the characters have a certainly questionable moral.
While the story follows multiple POVs, all of them will be centered around the Kale-Tollworth family, showing an interesting variety of characters, one of them being Lily, which easily became my favourite. And let me stop here because I cannot express how well-written Lily is. Her chapters are certainly the most interesting, and it's a character that I loved from the start. She was prickly and hard-headed and might have a small problem with certain substances, but also a real force in this book; and as we usually tend to see her in the company of Rose, her sister, much more cautious, who usually overthinks, all these characteristics from Lily are enhanced due to comparisons.
Lark, the brother of Lily, has enrolled in the tax militias, and well, has been poisoned. In contraposition to Lily, we see a much more vulnerable person in Lark, and somebody who is just receiving all the bad things that could happen in his life, especially after his death. Don't worry, this is not a spoiler, it's basically the first chapter of the book, and the way one of the fantastical elements of the Split Sea world is introduced, the Necromancy, as a mage, Terrano, has got the corpse of Lark to experiment (something that as you can imagine is not exactly the most desirable end to somebody). Outside of Lark and Lily, we are also going to follow Husker and Dren, being Husker another element that will add conflict to the plot, as he has been recently freed from prison, because he was a murderer, and had been writing to Lily, without her knowing about it; Dren will serve as a sort of guide to him.
Let's dive now into one of the aspects I loved in A Handful of Souls, which is the world. The Split Sea feels like a mix between post-industrial revolution England, and Taboo, balancing between the fantastic elements, and the crudeness of grimdark; something that Rice does by creating certain contrasts between the Southlands and Branera, which are separated by the Split. The extension of travel chapters also helps to create a certain sensation of the immensity of this rather small zone, helping us to empathize with Lily in particular.
The writing style of Rice is something I would also like to highlight, as it is different from classical grimdark, not being as heavy and bleak as it appears to be the standard in the genre. And probably it's due to the difference that this book has with the standard, as rather than ending hopeless, we can see some light rays at the end, some redemption possibilities for our characters.
I enjoyed greatly the uncommon of A Handful of Souls. Rather than a classical story, we get a family grimdark, in the best style of what we could have seen in A Song of Ice and Fire; and honestly, any fan of it will greatly enjoy A Handful Of Souls. My journey across the Split has felt rather short, and hopefully, Rice will deliver us an opportunity to return soon, to experiment another time adventures with the Kale-Tollworth family.