Along the Razor's Edge (The War Eternal #1), by Rob J. Hayes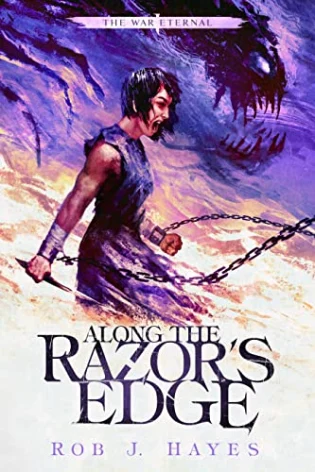 Synopsis:
No one escapes the Pit.
At just fifteen Eskara Helsene fought in the greatest war mankind has ever known. Fought and lost. There is only one place her enemies would send a Sourcerer as powerful as her, the Pit, a prison sunk so deep into the earth the sun is a distant memory. Now she finds herself stripped of her magic; a young girl surrounded by thieves, murderers, and worse. In order to survive she will need to find new allies, play the inmates against each other, and find a way out. Her enemies will soon find Eskara is not so easily broken.
An emotional roller coaster in this unique coming of age story. Perfect for fans of Patrick Rothfuss and Mark Lawrence, be one of the first dive into Award-Winning Author Rob J. Hayes' new epic fantasy world.
My Review
(4.25 out of 5 )
It's really difficult to talk about this book without bringing the spotlight on the main character, Eskara. This is a book where all the narrative weight is over Eskara (or Eska), and honestly, I think the job that Rob J. Hayes did is amazing.
Let me start by saying that I'm not a big fan of using a first-person narrative style, but in this case, I couldn't see it being narrated in other ways. But all of this is due to how good is Eska as a character. Even when she is taking the worse of decisions, you are cheering for her, because she's so charismatic that you easily empathize with her.
Worldbuilding is also something Rob masterfully does. Despite the novel being restricted to the Pit, a subterranean prison, he takes introspective moments on Eska's mind to give us small spoons of how the world is made, and honestly, I think it also helps to make the pace really good. Instead of dumping a ton of info, giving these snaps feels much better and helps to introduce ourselves into Sourcemancy, the conflict which made Eska into prison and even her past.
The story is brutal and dark. You will feel uncomfortable with it during certain moments but will continue because you are enjoying it. Along the Razor's Edge felt so short.
Honestly, can't wait to continue with Eska's story on The War Eternal saga. Definitely, a great novel by Rob J. Hayes.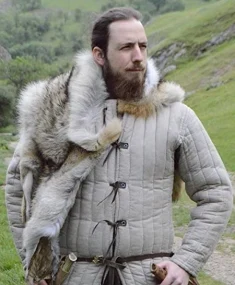 Rob J. Hayes
Winner of Mark Lawrence's 3rd Self Published Fantasy Blog Off (SPFBO) with Where Loyalties Lie
Rob J. Hayes has been a student, a banker, a marine research assistant, a chef, and a keyboard monkey more times than he cares to count. But eventually his love of fantasy and reading drew him to the life of a writer. He's the author of the Amazon Best Selling The Heresy Within, the SPFBO-winning piratical swashbuckler Where Loyalties Lie, and the critically acclaimed Never Die.