Captain Moxley and the Embers of the Empire, by Dan Hanks
Synopsis:
An ex-Spitfire pilot is dragged into a race against a shadowy government agency to unlock the secrets of the lost empire of Atlantis...
In post-war 1952, the good guys are supposed to have won. But not everything is as it seems when ex-Spitfire pilot Captain Samantha Moxley is dragged into a fight against the shadowy US government agency she used to work for. Now, with former Nazis and otherworldly monsters on her trail, Captain Moxley is forced into protecting her archaeologist sister in a race to retrieve two ancient keys that will unlock the secrets of a long-lost empire - to ensure a civilisation-destroying weapon doesn't fall into the wrong hands. But what will she have to sacrifice to save the world?
Captain Moxley and the Embers of the Empire is a pulp adventure fantasy novel, written by Dan Hanks, following the adventures of Samantha Moxley, an ex-Spitfire pilot that is trying to protect her archeologist sister from the US government, which is trying to retrieve an artifact she has discovered. It's not a secret I'm a big fan of the Indiana Jones series, and with the release of the fifth film, I had a big itch of reading something like; Captain Moxley has fulfilled perfectly that role, adding more depth to what I expected.
As said, our main character and the voice for most of the novel is Sam, the brave pilot who gets involved just for taking care of Jessica, her sister, as a secret section of the US government, directed by a former Nazi, is trying to recover an artifact she found, which might be the key to find the lost knowledge of the Atlantis; they won't hesitate to kill whoever interposes in their way.
With this premise, a crazy run across the world is started, in order to find the secrets that will open the chamber under the Giza's sphinx; our two heroines will be joined by Teddy and Will as the archeological counterparts, enlightening the general tone.
A really fast pacing novel, which hooks you from the start and that becomes an authentic page-turner, which only slows a bit to introduce discussion about archeology and how colonialism has spoiled the colonies of their relics, which usually end up being exposed at the metropolis. Another small subtheme that appears is how some of the Nazi scientists were picked by the American government in order to get a technological advantage over other nations.
As we can expect from a book of this genre, action scenes are a big part of this novel, reinforcing the sensation of adventure (special mention is deserved to the initial ones of Samantha's escaping using a plane). There are multiple winks to the films that were part of the inspiration for this book, such as Indiana Jones and The Mummy (another of my favourite ones)
If you are looking for a novel that features adventure and archeology in the style of Indiana Jones, do yourself a favour and pick Captain Moxley and the Embers of the Empire. You will absolutely love it!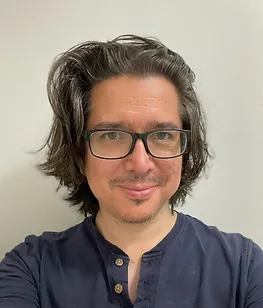 Dan Hanks
I'm an author based in the rolling green hills of the Peak District with my two kids and fluffy sidekicks Indy and Maverick (and sometimes Poppy). When I'm not writing books, I work with a local archaeological consultancy.
Delighted to be repped by Sara Megibow of KT Literary and Steve Fisher at APA Talent and Literary (film and TV).
I'm also one of the co-founders of the OcTBR Challenge, and write books, screenplays and comics when I'm not at work or wasting time on Twitter or Instagram.