Cyberpunk 2077: No Coincidence, by Rafał Kosik
Synopsis:
Set in the world of Cyberpunk 2077, one of the bestselling video games of recent years, from acclaimed Polish science fiction writer Rafał Kosik, this electrifying novel follows a group of strangers as they discover that the dangers of Night City are all too real.
In sparkling Night City, a ragtag group of strangers have just pulled off a heist, robbing a convoy transporting a mysterious container belonging to Militech. The only thing the group has in common is that they were blackmailed into participating in the heist—and they have no idea just how far their mysterious employer's reach goes, or the purpose of the artifact they stole.
This newly formed gang—composed of a veteran turned renegade, a sleeper agent for Militech, a computer nerd, a therapist, a ripperdoc, and a techie—must learn how to overcome their differences and work together, lest their secrets be unveiled before they can pull off the next deadly heist.
Cyberpunk 2077: No Coincidence is an interesting heist story, set in the universe of the Cyberpunk 2077 franchise, written by the veteran Polish author Rafał Kosik, and published by Orbit Books. A novel that will be greatly enjoyed by those with a previous contact with Night City and its terminology, as the author doesn't lose the time introducing us to it, jumping directly into the electrifying story.
A novel with an enormous cast of characters, used to create a choral story around a big heist and Night City; with wildly different origins, but all joined for the same goal: a mission to take down a Militech convoy. Kosik jumps multiple times between the different POVs, giving each one a distinctive voice that let you recognise them in a few paragraphs, and trust me, you will need it; it will happen during all the book.
The vibes and the setting of Night City are recreated with an incredible level of detail, just taking the assumption you had a previous contact with it; we will visit several parts of it, from corpo towers to the poorest neighborhoods. You become a part of the city, being able to see how different the people become under this system, from chromed soldiers to netrunners. All trapped in this job by blackmail.
Plot wise, No Coincidence is a big heist story, really intricate and complex; an operation that might fail if just one of their pieces goes down, bringing down all. Pacing is frenetic, and it can feel overwhelming at times; tension can be cut with a knife. Despite the chapters are relatively long, as we are jumping from one character to another in such brief spaces as one page, the story flows really well; a decision that fits quite nicely with the rest of the picture.
If you like the Cyberpunk 2077, or you are a big fan of action stories, I can totally recommend you this novel; it will be a delightful reading experience. Don't hesitate and scratch that itch to get more of this universe!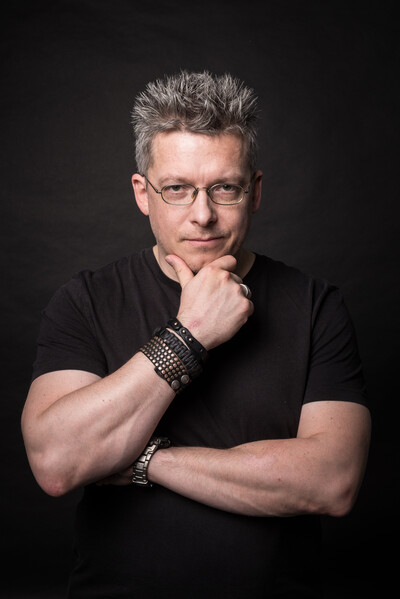 Rafał Kosik
Rafał Kosik is one of the most influential Polish science fiction writers of the 21st century. He's a laureate of the highest sci-fi literary honors in Poland. His meticulously thought-out visions of the future draw the attention of mature readers, while his YA sci-fi adventure series "Felix, Net i Nika" is a beloved bestseller with the younger audience. In his science fiction novels he combines high-concept ideas reminiscent of Brian Aldiss, Isaac Asimov, or more recently Liu Cixin, with a more sociological and philosophical approach to the human being, characteristic of works by the great sci-fi Masters, Stanisław Lem and Philip K. Dick. Recently he worked with CD PROJEKT RED on the show Cyberpunk: Edgerunners as a screenwriter.