Dark Hilarity (The Illuminad #1), by Joseph Sale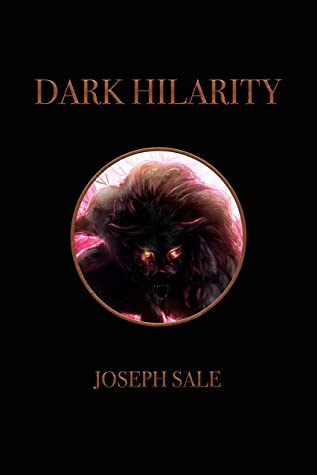 Synopsis:
Tara Dufrain and Nicola Morgan are eleven year old girls growing up in the '90s, obsessed by Valentine Killshot, a metal screamo band. In particular, they're enamoured by the lead singer, the mysterious yet charismatic Jed Maine who bears the epithet 'The Cretin'. In Jed's lyrics, he describes a world beyond the Dark Stars that he hopes one day to reach. The girls think it's all just make-believe they share together until a freak, traumatic incident makes this world very real.
As adults, Tara and Nicola try to come to terms with the devastating catastrophe that changed their lives growing up, but to do so they will have to step once more into Jed Maine's world, and confront the man who took everything from them.
Dark Hilarity is My Best Friend's Exorcism meets The Never-Ending Story, a fantasy that explores addiction, depression, and the healing power of friendship.
My Review (4.75 out of 5 )
Dark Hilarity is the first book in the dark fantasy/horror series The Illuminad, by Joseph Sale. Honestly, I can't think of a better book to read during Spooktober, as it is a great mix between fantasy and psychological horror, in a way that remembers me of some of Stephen King's works; and also despite being part of a series, it can be read totally as a standalone.
Let's start by saying that is a really unique novel, and that I needed some days to process what I read before writing a coherent review; it heavily impacted me, especially because in some ways it also mimics partly Clive Barker's books, bringing the visceral elements to the horror. We are introduced to Nicola and Tara, two eleven years old kids who became friends, as they share a common interest in Valentine Killshot, a heavy metal group, whose songs mainly describe a world beyond the stars that his singer hopes to reach.
Probably, this is my favourite part of the whole novel, which is meanwhile Tara and Nicola are teens. Sale does an excellent job of weaving the psychology behind the characters, on how the circumstances that are part of our teen MCs push them to like Valentine Killshot, as their lyrics are basically an escape way from their hard lives. We are also introduced to Jed Maine, the lead singer of Valentine Killshot, and his drug-powered travels to another world. All of these elements lead Tara and Nicola to go to the last Valentine Killshot concert, and everything that happens after, which will impact Tara and Nicola for the rest of their lives.
The second element that stands out in Dark Hilarity is Dae'shta. I'm trying to avoid as much as possible to introduce spoilers in this review, but after some things happen, we are transported to another world, Dae'shta, becoming the second part of Dark Hilarity a portal fantasy. But a really special one, as the journey that Tara and Nicola will experiment in that world, is different from what I've seen in most of that genre, and it becomes a trip that will be against their own experiences, and that will work as a way of self-discovery. Dae'shta itself is a really interesting universe, full of allegories that can be read between lines, deserving each one their own article (Joseph Sale explained a little bit about it in the interview we had); and I found myself stopping every few lines, trying to visualize what it was described in the book, as multiple creatures and places are just memorable.
In summary, Dark Hilarity is an excellent mix of psychological horror and portal fantasy, which I enjoyed greatly. I needed some days to think about what I read, because it's certainly really unique, and in some ways, mind-twisting; processing all took a certain time. Despite being part of a series, it is a perfect standalone, and if you want a great book to read during Spooktober, Dark Hilarity is for you.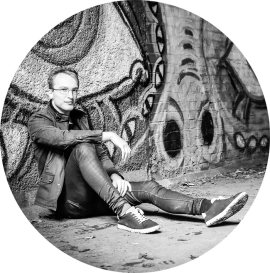 Joseph Sale
Joseph Sale writes dark fantasy and epic poetry. His first novel, The Darkest Touch, was published by Dark Hall Press in 2014. He currently writes and is published with The Writing Collective. He has authored more than ten novels, including his epic series The Book of Thrice Dead and his dark fantasy trilogy The Illuminad He grew up in the Lovecraftian seaside town of Bournemouth.
He edits non-fiction and fiction, helping fledgling authors to realise their potential. He has edited some of the best new voices in speculative fiction including Ross Jeffery, Emily Harrison, Christa Wojciechowski, and more. His short fiction has appeared in Tales from the Shadow Booth, edited by Dan Coxon, as well as in Idle Ink, Silver Blade, Fiction Vortex, Nonbinary Review, Edgar Allan Poet and Storgy Magazine. His stories have also appeared in anthologies such as Lost Voices (The Writing Collective), Technological Horror (Dark Hall Press), Burnt Fur (Blood Bound Books) and Exit Earth (Storgy). In 2017 he was nominated for The Guardian's 'Not The Booker' prize.
He is obsessed with Attack on Titan and Community.