Duckett & Dyer: Dicks for Hire (Duckett & Dyer #1), by G.M. Nair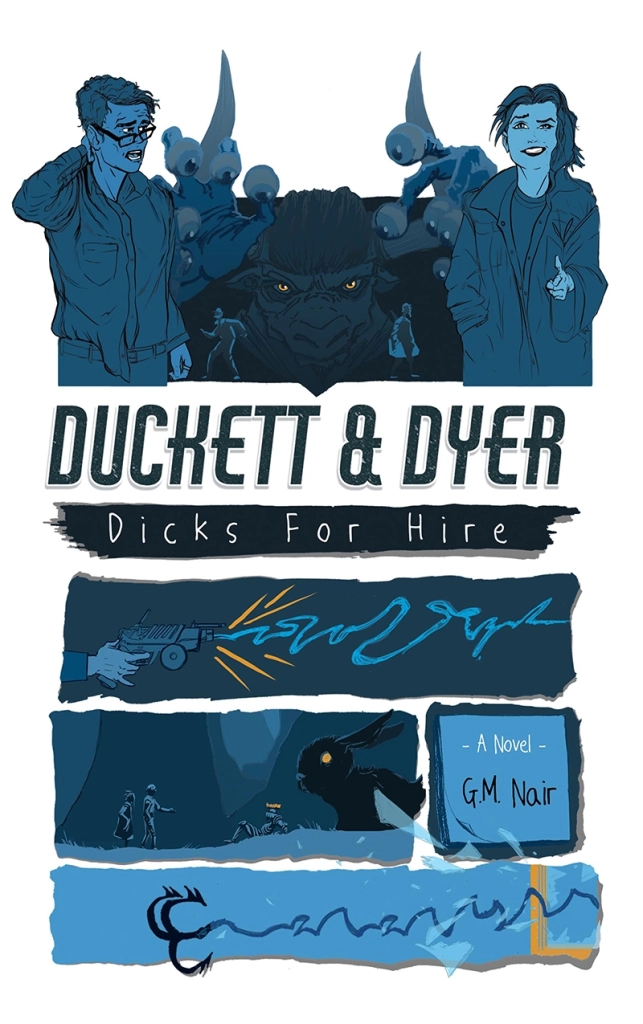 Synopsis:
Michael Duckett is fed up with his life. His job is a drag, and his roommate and best friend of fifteen years, Stephanie Dyer, is only making him more anxious with her lazy irresponsibility. Things continue to escalate when they face the threat of imminent eviction from their palatial 5th floor walk-up and find that someone has been plastering ads all over the city for their Detective Agency.
The only problem is: He and Stephanie don't have one of those.
Despite their baffling levels of incompetence, Stephanie eagerly pursues this crazy scheme and drags Michael, kicking and screaming, into the fray only to find that they are way out of their depth. They stumble upon a web of missing people that are curiously linked to a sexually audacious theoretical physicist and his experiments with the fabric of space-time. And unless Michael and Stephanie can put their personal issues aside and fix the multi-verse, the concept of existence itself may, ironically, no longer exist.
Duckett & Dyer: Dicks for Hire is the initial book in the Duckett & Dyer series by G.M. Nair. And honestly, I don't really know where to start the review, because there are so many things I want to talk about.
So I guess we can start with the characters, Michael Duckett and Stephanie Dyer. Probably the best word to describe Stephanie is «disaster», but the kind of disaster you find lovable and the kind of disaster you end up appreciating because she brings the craziness you need in your life. And it also helps us to appreciate more the character of Duckett, a person who is just fed up of life, living with Steph, as she is his closest friend (and even his only one). With these two main characters, we have the perfect ingredients to write an excellent sci-fi comedy. While it is true that we have a second POV, the detective Rex Calhoun, this is probably the only part of the book I feel it's kinda non-necessary, as we could have gotten into it without his POV. Rest is narrated from the POV of Duckett, which also helps for such a chaotic story, as Michael tends to be riddled by anxiety, and by the craziness of Steph.
Let's dive into one of the big selling points of this book, and one of the strengths of G.M. Nair, the humour. It's really difficult to keep the plot flowing while making you laugh all the time, but Nair overdid himself, showing excellent taste, and I can totally agree with another review saying «it could have written a Monthy Python script»; in both senses, we have jokes for all levels, featuring multi-layers kind of jokes, with complexity; and sometimes just going for the easy laugh, helping sometimes to alleviate the tension on the story. Just to quote an example:
«What? No, Steph. Get outta here! Terri could be here any minute»«Don't worry. I'll skiddadle when I see her coming». Stephanie grabbed the first breadstick out of the basket before a real waiter -Mark, presumably – could even set it down. «Oh man. I love these things. They're like crack but if you put garlic butter on crack».
That moment when your date is going perfectly.
And let's go to the second point where I think Nair's writing, which is the science part of sci-fi. Let's start by stating that writing a coherent story featuring time traveling is not easy, and usually, the twist you need to add to make it work tends to be rather inelegant, here is why I liked so much Nair's solution to it, as it takes on of the modern physic theories and uses it to write at the same time something whose plot is solid, being at the same time hilarious.
These two strengths allow Nair to weave a really engaging story, and that at the same time made me laugh, it developed a plot (especially after the 50% mark) that kept me hooked until the end. Probably it is just me that I think that when we are reading a book, there's a tacit agreement with the author about the content and what we can expect, and I can say D&D totally delivered it.
So, do I recommend this book? Absolutely, it's an amazing read, a solid sci-fi story intertwined in a really great way with comedy, making me laugh nonstop. Obviously, if you are looking for something more serious, probably Duckett & Dyer is not a book for you, but if you are looking for a great read and to have fun, get it, actually, you should have got it yesterday.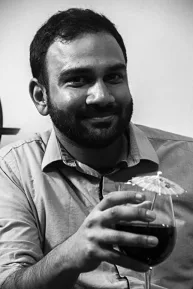 G.M. Nair
G.M. Nair is a crazy man who should never be taken seriously.
Possessing both a Bachelor's and Master's Degree in Aerospace Engineering has enabled him to masquerade as an intelligent, functioning member of society. If he approaches you to talk about cosmology or the state of the American Space program, try to appear as large as possible and make loud screeching sounds until he flees.
Mr. Nair writes and draws as a hobby and as an attempt to pay off the legal settlements he has incurred for beating up small children as "payback". In a statement released by his lawyer, Mr. Nair asserts that "they know what they did."
He is part of a New York City-based sketch group and can be seen writing and acting on their monthly sketch show "Clip Show". He has also written for the History Channel's Join Or Die with Craig Ferguson. He also curates the blog Make Mom Marvel.