Empress & Soldier, by Marian L. Thorpe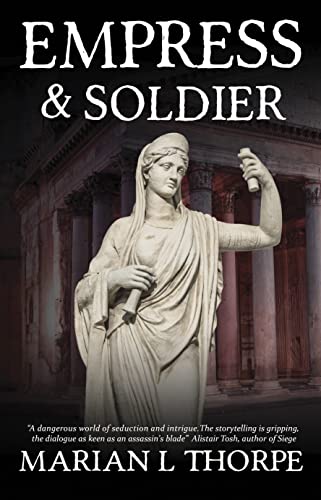 Synopsis:
A boy of the night-time streets. A girl of libraries and learning.
Druisius, the son of a merchant, is sixteen when an order from his father that he can neither forgive nor forget drives him from home and into the danger and intrigue of the military.
Eudekia, a scholar's daughter, educated and dutiful, is not meant to be a prince's bride. In an empire at war, and in a city beset by famine and unrest, she must prove herself worthy of its throne.
A decade after a first, brief meeting, their lives intersect again. When a delegation arrives from the lost West, asking Eudekia for sanctuary for a princess and support for a desperate war, Druisius is assigned to guard them. In the span of a few weeks, a young captain will capture the hearts of both Empress and soldier in very different ways, offering a future neither could have foreseen.
A stand-alone novel that can also serve as a second entry point into the Empire's Legacy series.
My Review
(4.75 out of 5 )
Empress & Soldier is the latest novel written by Marian L. Thorpe, a return to Casil that can work as an introduction to the rest of her world. A standalone novel, centered around two characters that will have an important paper in the evolution of Casil, from really different social standpoints: Empress Eudekia and Soldier Druisius.
Classifying this book into a genre is kinda difficult, as it could be called the historical fiction of an imaginary world. The plot of this book is complex, especially as we are going to be following simultaneously two POVs on really different situations: while following Druisius we are going to experience the hard life of a soldier, who will also act as an information gatherer for his superiors, in Eudekia we will be able to see how a girl from a relatively low social class ascends to be one of the most influentials empresses on Casil's story.
While I'm remarking on the importance of those two main characters in the plot of this novel, it would be unfair to not talk about how Thorpe gives every single character its own role. From the soldiers in the camps that Druisius meet to the servants of Eudekia's house, all of them play a key role in how our Empress and our Soldier will develop.
Druisius is a darker character, one that you would probably not cheer for, as he is involved in the dirty and bloody side of the empire's maintenance. A brilliant character, son of a merchant that became a soldier due to an order; a loyal servant to his masters.
Eudekia is also brilliant, but in a different aspect. Becoming empress of Casil due to her marriage to the prince was not an easy task, but we will be able to see how she uses her intelligence to fit herself into this paper that she wasn't born for.
Thorpe's worldbuilding also deserves a mention, because it's vivid and well-researched. You can almost feel yourself walking along the streets of Casil, a classic city, this kind of mix between the Roman Empire and Britain; all of this is helped by the prose used, which contributes to creating really detailed images of the scenarios used for the story.
Empress & Soldier is an excellent standalone novel, telling the story of two characters that you will find soon attached. I totally recommend it to fans of historical fiction, because even if the world this story is situated in is imaginary, this novel feels like one of the genre; and I would also recommend it to people who prefer low fantasy settings. Certainly a perfect entry to Thorpe's worlds.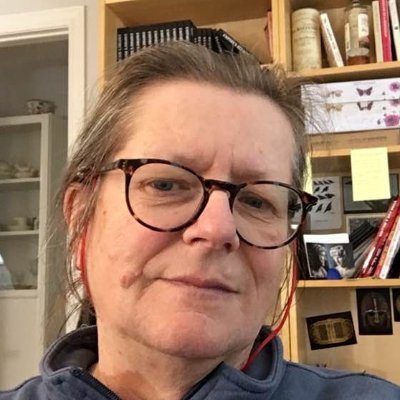 Marian L. Thorpe
My books are historical fiction of an imagined world, one that is close to Britain, Northern Europe, and Rome, but isn't. A world where a society evolved differently after the Eastern Empire left, where one young fisherwoman answers her leader's call to defend her country, beginning a journey into uncharted territory, in an Empire of the edge of history.