Exodus 20:3, by Freydís Moon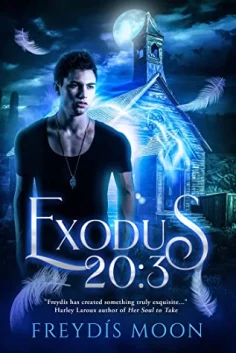 Synopsis:
---
Indie Ink Awards 2022 Writing the Future We Need: latinx representation by a latinx author
---
Religious eroticism and queer emancipation meet in a claustrophobic monster-romance about divinity, sexuality, and freedom.
When Diego López is guilted by his mother into taking a low-key construction job in New Mexico, he doesn't expect to be the only helping hand at Catedral de Nuestra Señora de Guadalupe. But the church is abandoned, decrepit, and off the beaten path, and the only other person for miles is its handsome caretaker, Ariel Azevedo.
Together, Diego and Ariel refurbish the old church, sharing stories of their heritage, experiences, and desires. But as the long days turn into longer nights, Diego begins to see past Ariel's human mirage and finds himself falling into lust—and maybe something else—with one of God's first creations.
My Review
(3.5 out of 5 )
Disclaimer: This score is not representative of the one given for the specific category it is being judged on the Indie Ink Awards.
«You shall have no other gods besides me.» Exodus 20:3
Exodus 20:3 by Freydís Moon is the first of my reads as a judge for the Indie Ink Awards, and I kinda went in without knowing too much about the book, outside of the content warnings in the spreadsheet. Despite being a short novelette, it has space to treat so many themes, touching theology, the politics in the USA-Mexico frontier, and drug abuse among others, featuring several steamy scenes, with a focus on the supernatural factors, as one of our main characters, Ariel Azevedo, is an angel.
The story will follow our main character, Diego, whose future is not really promising after several drug problems and a car accident. His mother got him a job offer as a helper in the reconstruction of an old ruined church, where he will know Ariel, the caretaker, who had the idea for this project. Outside of the initial scenes where they are working in the rehabilitation, we get also to connect with both characters, as Diego starts to open himself to Ariel, sharing his feelings.
From this point on, we will also get to see some theological discussions, and a certain «progressive» way of thinking about different aspects of God, religion, and angels. Certainly, I wouldn't recommend this book to conservative people, because it's far from orthodoxia. The opening of Diego through praying will also lead to the start of a relationship with Ariel; and the confidence will lead to them having relationships, with really vivid scenes. At this point, it is important to notice that the angel in this book is closer to the biblical abominations, with four arms, several eyes, etc; taking the novelette to the monster erotica lands.
Outside of that, the development of characters is certainly interesting, especially since Diego starts to open himself, allowing the conversation to touch certain themes that are complicated, as we can see the daily struggles of different families living in the Mexico-USA frontier, the struggles Diego is passing on. Once we discover the second occupation of Ariel, having a smuggling tunnel across the frontier behind the church; and offering Diego to live with him, effectively a new life.
The story also has a fair share of representation of the latine cultures, mostly about Mexico, and a little bit about Brazil. It focuses on the different regional aspects of both cultures, showing also the differences between them. There are plenty of times when the characters spread Spanish words into the conversation, mimicking how it is sometimes in these cultures, feeling really authentic, adding also a poetical layer to the prose.
In summary, EXODUS 20:3 is a novelette that erotica lovers will enjoy certainly. It is my first time reading this kind of genre, but somehow, it felt like it filled perfectly its purpose, bringing also the spotlight to important themes outside of the steamy moments.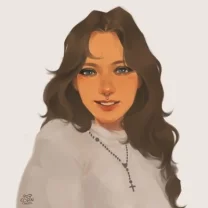 Freydís Moon
Freydís Moon (they/él/ella) is a biracial diviner and creator with an affinity for quirky, speculative storytelling. Lover of culture, mysticism, history, and language, they constantly find themself lost in a book, trying their hand at a new recipe, or planning a trip to a faraway place.
Content Warnings are available for prose and poetry on their Carrd. Read with care.