Heliotrope, by Palmer Pickering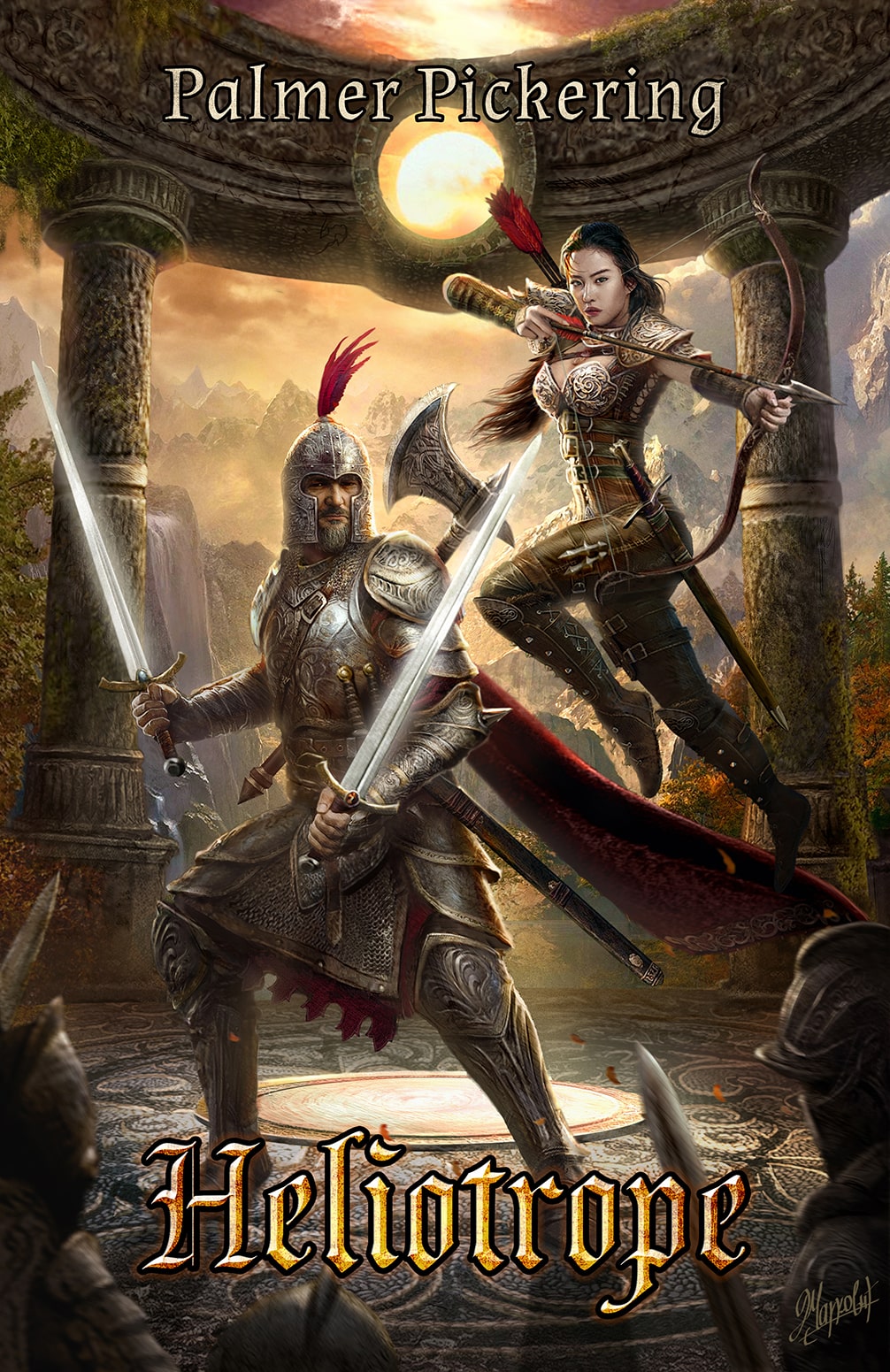 Synopsis:
Teleo is a retired soldier descended from Mages, who were cast out of power generations ago. After years of war and sorrow, he wants nothing more than to live a quiet life on his farm and work his stonemason's craft.
His wife and daughter had been murdered during a war raid several years earlier and his young son stolen by the enemy side. He spent years unsuccessfully searching for his son and returned home broken-hearted. At the local castle, he comes upon a war orphan stolen by his side from the enemy and rescues him from abuse, adopting him as his foster son.
Teleo is working at the castle when he finds himself in the middle of a coup. This launches a journey to protect his new family, uncover the secrets of the ancient ways, and reclaim the magic of the Mages.
A cast of lovable characters:
Teleo – A gritty warrior who would do anything for you, unless you cross those he loves, then you will meet his blade.
Dinsmora – A reclusive herbalist who weaves shadows.
The fosterling – Orphan who forms a family and softens the toughest of hearts.
The animals – Characters in their own right who carry burdens and bring glory.
Magic:
Magic was outlawed generations ago but lingers in the blood of the kingdoms. There were good reasons it was outlawed and reasons it must rise again.
Heliotrope is the dive into epic fantasy from the author of the Star Children saga, Palmer Pickering. The result is a slow-burn, epic fantasy adventure that feels like one of the classics of the genre, with a story around tropes like found family, the necessity to adapt to the circumstance, and the growth of the characters while trying to protect those around them.
Teleo is a retired soldier that wants to spend the rest of his days just being a farmer and doing the occasional masonry job. Due to his ability, the queen chooses him to repair some of the old patterns in the training yard; and while doing it, he also adopts an orphan as an apprentice. Soon, he realizes the pattern is in reality a Heliotrope, a magic place forgotten by most people.
But before he's able to finish the reparations, his peace dreams get interrupted by a bloody coup. Another time, Teleo is in the need to fight for his life, but now has to take care of two children; having to flee with his apprentice and the heir to the throne, Jesum and Kaspari. They take the path to meet Dinsmora, Teleo's cousin, in her magical sanctuary, to recover and start a new journey to go to the other heliotropes hidden and forgotten, for most people Mages are just a myth.
What starts here is a big journey with our group of characters, that will show us different parts of the world, an adventure that will make us develop a bond with these characters, in the style of classic fantasy as Robert Jordan. This gets reflected in the pace, as it is a really slow book, but not for that it feels boring, as honestly there are a ton of elements that get introduced and make it interesting, because we get to see the whole thoughts of our characters, making us feel invested into the outcome as we become part of the family.
Talking about the world, it plays an important role in the whole story, as we visit several cities and places during the journey, and our characters get involved in the politics and plays of those places. The narrative style is also a big help to introduce us to the different notable places we visit, as there are plenty of descriptions, allowing us to get a really complete mental image, making the world feel huge. We also stay on different towns for several seasons, allowing us to compare how it evolves between seasons.
Characters are extremely well developed, even including the animals that are part of the journey. Each one has its own motivations, and takes a different role when they get to a place; and as the story evolves, the found family trope takes a more important role, growing as time passes. Personally, I only have one gripe, as I would like Kaspari to get a little bit more of the spotlight, but even with that in mind, the job done in this aspect is excellent.
Heliotrope was a really smooth read, as despite its length, I devoured it in a pair of days, in part because it is really well written. This book will be a delight for those that prefer classic fantasy or look for a sword and sorcery (more sword than sorcery) story. To be honest, I wonder if we will return to this world at some point in another novel, as it felt super interesting and full of life; and I enjoyed my whole time there.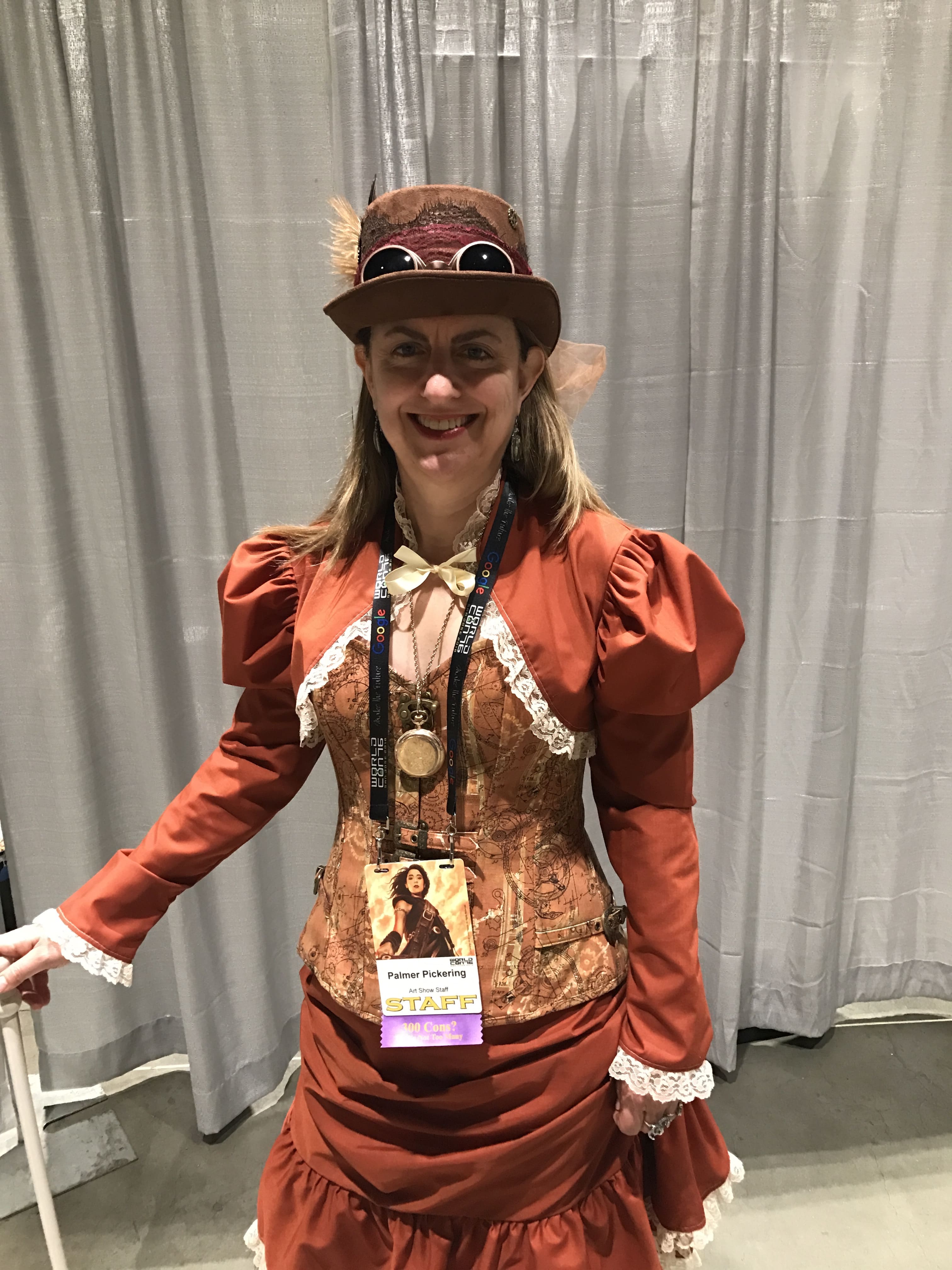 Palmer Pickering
Palmer has been writing fiction since she was eight. She received her BA in American Studies from Wesleyan University, with concentrations in Religion and Race Relations.
She currently works in Silicon Valley in the gaming industry and high tech. In addition, Palmer holds a certificate in Chinese Acupressure, is a certified solar panel installer, and studied Tibetan Buddhism with the 14th Dalai Lama.
She lives and writes in the magical redwood forest of the Santa Cruz Mountains, California.