Hills of Heather and Bone, by K.E. Andrews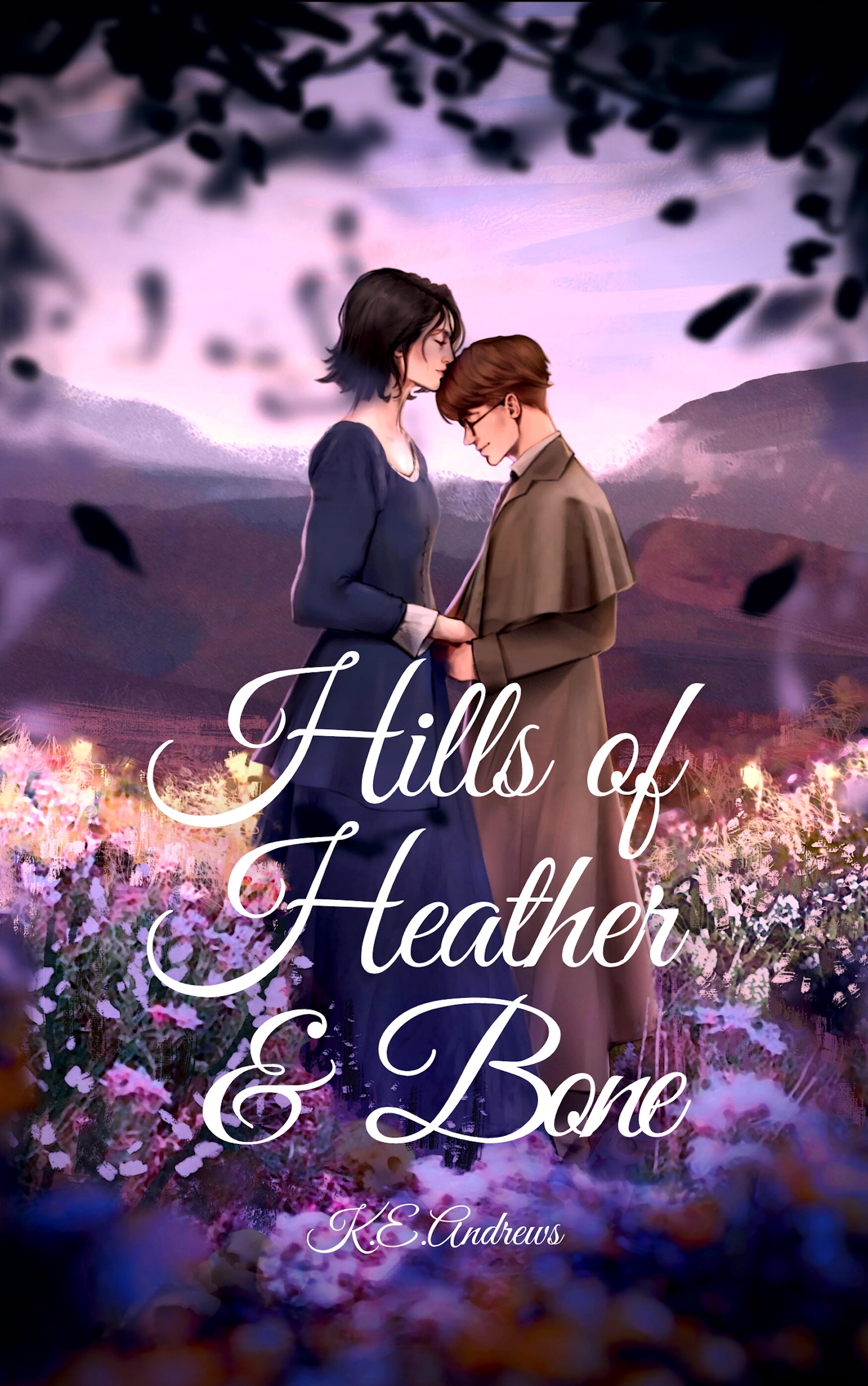 Synopsis:
The bones of the dead hold stories.
On the fringes of Errigal, Morana longs to exchange a life of hiding for a peaceful one with her husband, Percy. While Percy's bloodgift lets him grow plants and heal broken bodies, Morana's a boneweaver, despised and feared because she can hear bones and raise the dead. Morana doesn't want to be seen as a villain from the old stories and instead spends her time gardening, writing the stories of the dead, and fending off a spiteful chicken.
Morana and Percy's lives are shattered when a group of Failinis tasked with capturing boneweavers and rogue bloodgifted find them. On the run and battling the elements, ancient creatures, and the loss of all they called home, Morana and Percy search for any sanctuary left in Errigal. Morana must choose between the call in her blood or the family she holds so close to her heart if she and Percy are to survive.
Please be aware that this book contains some scenes of violence, death, depression, mentions of miscarriage, birthing scenes, suicidal thoughts, suicide, and cannibalism.
My Review
(4.25 out of 5 )
"Grief and I are old friends. If it's not my own, it's the sorrow of the dead I carry."
Hills of Heather and Bone is the new book by K.E. Andrews, a cottage-core novel following the story of Percy and Morana, a married couple of bloodgifteds, hiding and trying to have a peaceful life in Errigan, as Morana's gift, boneweaving, is despised and feared due to the ability to talk and raising deaths.
They were well established, with Percy using his gifts to take care of the people and heal their neighbours, and Morana keeping hers in secret. But when a group of Fallinis tasked with capturing rogue bloodgifteds arrives, the couple is forced to run in order to avoid being captured, starting a really difficult journey in the company of their chicken (which for moments steals the spotlight to our couple), in order to find a new safe place where they can find the peace lost.
"I'm sure this won't take long. And if I don't come back, I hope you and Morhenna have a wonderful life together."
"The chicken doesn't kiss nearly as good as you do," Percy says.
With this premise, we have a slice-of-life story, with our marriage trying to find a new place for them. Andrews has made an excellent job creating characters that grow with you along the journey, showing her strength in giving them deepness.
Morana suffers anxiety due to her condition as boneweaver, and it is reflected perfectly; but she can also learn to trust in people after time, as we can see in her relationship with Anstice.
Percy has a bit more confidence, and his ability as a healer is really appreciated by the people. We see how he's the "strong" of the relationship, trying to help Morana as much as he can; he's really in love with her, and proves it at any time it is possible.
How this marriage relationship evolves is one of the main points of the plot, being a great portrayal of how a sane relationship has its highs and downs, but in the end, love is what matters, even if a crazy chicken might get your spouse down.
Anstice takes my flour-caked hand and squeezes it. "I know you carry much sorrow in your heart, Morana," she says, "but don't mourn what isn't dead yet."
While this book can be called slice-of-life, in reality, it is darker than usual in the genre, as Andrews is not afraid of exploring pain and grief. The contrast between those tenser moments and the slice-of-life passages works marvels to create an enjoyable book.
If you are looking for an original proposal, with a huge emphasis on the relationship between a couple (and their crazy chicken), give a try to this book. Andrews has proven once more her skill as an author.

K.E. Andrews
K.E. Andrews has always been an avid reader, which sparked her passion for writing at an early age. Most days she spends her time daydreaming about stories and making mood boards. When she's not writing, she tends to her plants, plans out her next crafting project, and binge-watches shows on Netflix. She currently lives in Powder Springs, Georgia with her family and three cats.