Jack of Thorns (Inheritance #1), by A.K. Faulkner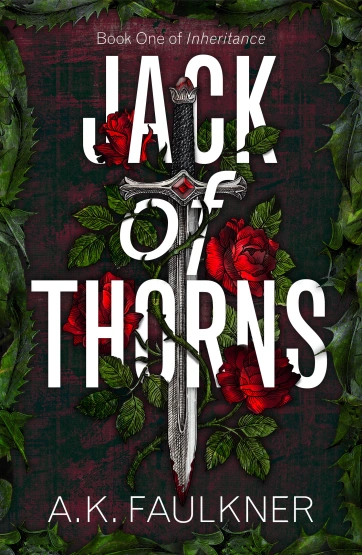 Synopsis:
Laurence Riley might be able to see the future, but he can't see a way to fix his messed-up life. He can't control anything—not his supernatural talents, not his drug addiction, and not his violent ex-boyfriend. Laurence needs help and he knows it. A lifelong pagan, he turns to his god… and he gets Jack. Jack can help Laurence tame his powers and take control of his life. But it comes at a price: Laurence will need to keep him fed with regular offerings of sex. For the old Laurence, that would've been a pleasure. Problem is, Laurence has met Quentin.
Quentin is devastatingly handsome, way out of Laurence's league (like British nobility levels of out-of-his-league), and unbearably chaste. If that weren't enough to keep Laurence away, Quentin's wild telekinesis is even more uncontrollable than Laurence's precognition. But Laurence doesn't want anyone else, and Jack is getting hungry.
Then Laurence foresees a glimpse of Jack's true plan. It will leave a trail of death across San Diego–and Laurence has been helping him do it. The past has taught him that the future can't be changed. But if Laurence and Quentin can't stop Jack, there won't be any future at all.
Jack of Thorns is the first book in a dark urban fantasy series where X-Men meets The Magicians
My Review (3.5 out of 5 )
Disclaimer: I want to disclose I received a copy of Jack of Thorns due to being part of this Book Tour, but that this hasn't affected either the score or the review
Definitely, this book was not what I was expecting from it, but honestly, once I got rid of my early expectations, it became a really enjoyable lecture. More than a big thriller, we could call this book a slow-cooked paranormal romance where the plot is used as the catalyzer to make it advance.
Once we establish this book is more about the relationships between characters and how they evolve after traumatic things, it becomes a much more enjoyable read.
The balance that is established between the main characters, Laurence much more extroverted and a sex lover, meanwhile Quentin practically has aversion to physical contact, helps to also bring the focus over some of the problems that are treated in the narrative.
Both having supernatural powers also gives another interesting layer to the book, which makes me remember the Magicians to a certain extent, despite I'm not a fan of systems without clear laws.
In definitive, this is a really slow book, centered around the relationship between Laurence and Quentin, and which treats several difficult topics (see content warnings before reading it); but which acts as a good point of entry to the Inheritance saga.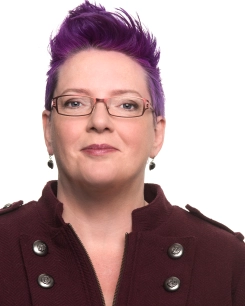 A.K. Faulkner
Amelia Faulkner was born in Thame, Oxfordshire, and sprouted upward in short order. The ground around Thame is reasonably mucky, especially in the winter, and she can't be blamed for wanting to get away from it.
Raised on a steady diet of Star Trek and Doctor Who, Amelia stood no chance in not becoming a grade-A geek. She has sat on the board of the British Fantasy Society, contributed fiction and fluff to various published roleplaying games, and written non-fiction for SciFiNow and SFX Magazines. For every positive there is an equal and opposite negative, and Amelia is forced to admit that she loves Wild Wild West.
In her spare time she enjoys travel, photography, walking her Corgi, and trying to convince her friends to replay the Pathfinder Adventure Card Game with all the Goblins decks.