Miss Percy's Travel Guide to Welsh Moors and Feral Dragons (A Miss Percy Guide #2), by Quenby Olson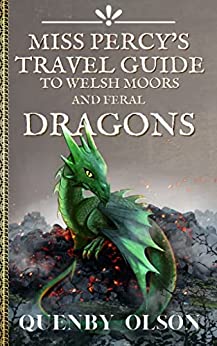 Synopsis:
First, there was a trunk. Inside the trunk was an egg, and inside the egg was…
Well, it certainly was not a chicken.
Miss Mildred Percy, former wallflower and current adventurer, is now in charge of a dragon. Along with Mr. Wiggan and Mrs. Babbinton — our stalwart companions from the first volume of Miss Percy's adventures — she embarks on a journey across Wales, in search of the mysterious Nyth y Ddraig, or Nest of Dragons.
But traveling with a young dragon in an unfamiliar land proves more difficult than anticipated. Between angry mobs, midnight rescues, and recalcitrant sheep, they battle (figuratively) their way across the countryside, defend themselves against enemies old and new, and discover something remarkable hidden in the mountains of Wales.
Miss Percy's Travel Guide to Welsh Moors and Feral Dragons (for the rest of the review, Travel Guide) is the great second book in the A Miss Percy Guide series by Quenby Olson. A good summary of what I pretend to say in this review is that Olson took the formula that made the first book great and funny, improved it, and crafted a perfect continuation. If you enjoyed the first instance of this series, you will love the second one.
We will be following Miss Percy, our lovely MC; Mr. Wiggan, and Mrs. Babbington on a crazy journey to discover the origins of Fitz in the Welsh badlands; as they discovered in the notes of Miss Percy's Uncle. Traveling with a growing dragon is obviously not an easy task, bringing several funny situations to our lovely characters; and adding some characters to our group of characters. In the background, we will follow the new adventures of Mr. Hawthorne and her new wife, Belinda, in the search of recovering what they consider their dragon (see book 1 for more details), always behind the steps of our main group.
If you loved the writing style in the Pocket Guide, fear no more, because all those aspects that made it a great book, and one that made you ostensively laugh, are replicated in the Travel Guide, even improved. The fourth wall is broken several times, hilarious situations where common objects are used as weapons also appear (cough, logs, cough), and the relationship between our main group of characters is also developed. And before I forget about it, there are plenty of explicative notes added in the style of the author for people who may find some fog in their memory.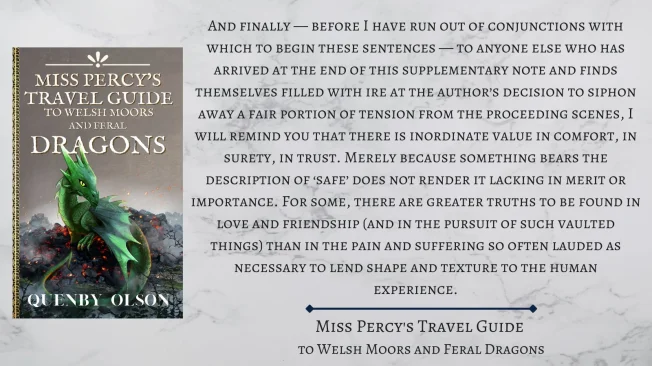 And now, if you fear spoilers, I kindly recommend you to skip this section and advance to the next quote image (for Goodreads: skip two paragraphs), because being this a sequel, it's really difficult to avoid spoiling some aspects. The travel to this Nest of Dragons will not be easy, as Fitz starts behaving more like a winged cat, becoming more independent, having more adventures on his own, and bringing more problems to our group of characters, even being kidnapped and retained by a group of Welsh natives; which leads to a new addition to our lovely group, Owen, who will help them, becoming a second son for our pair and Mrs. Babbington. The relationship between Mildred and Claude (Mr. Wiggan) is more developed, softening readers' hearts, and bringing more memorable moments.
As you may notice, the title features the word Dragons, in plural, so yes, we will have more dragons apart from Fitz, and that will bring up one of my favourite moments while reading: the hatchling of a second dragon egg, in a Welsh castle, the birth of Morgen, and how Fitz behaves as her father, taking care of the egg until the hatchling and keeping Morgen safe.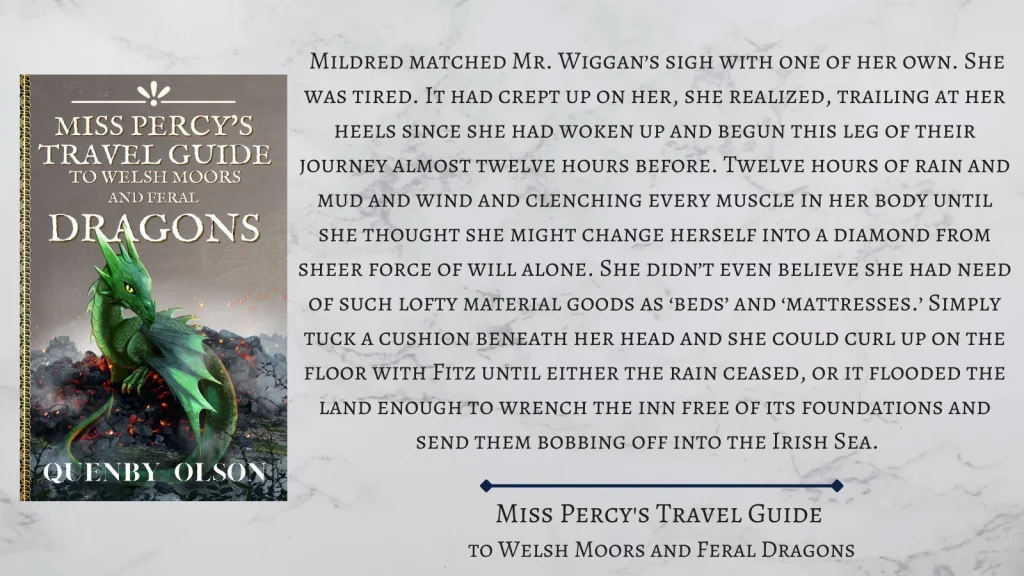 In summary, this Travel Guide is the perfect continuation to Pocket Guide, which will delight all of those cozy fantasy lovers, but in my opinion improved, as some of the elements I didn't like as much from the first book are reduced, and those who I loved are improved. The ending is also great, letting the foundations for a future third book, Miss Percy's Definitive Guide (which I hope won't be the last); so I can't say more that if you want more tea and dragons, more adventures of our spinster and her peculiar group, just pick the Travel Guide as soon as you can, because you won't be disappointed.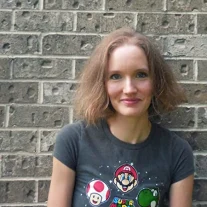 Quenby Olson
Quenby Olson lives in Central Pennsylvania where she spends most of her time writing, glaring at baskets of unfolded laundry, and chasing the cat off the kitchen counters. She lives with her husband and children, who do nothing to dampen her love of classical ballet, geeky crochet, and staying up late to watch old episodes of Doctor Who.