Perception Check (Mages of Velmyra #1), by Astrid Knight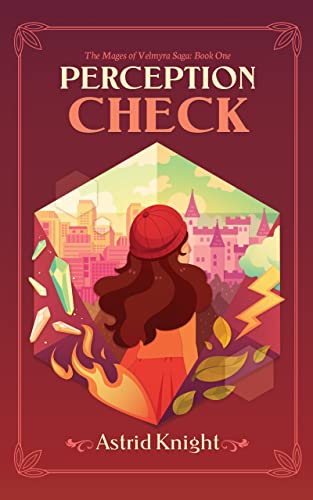 Synopsis:
Her favorite tabletop roleplaying game is real, and her kidnapped childhood best friend is trapped in a far off land. Will she be able to save her? Let's roll initiative!
Violet Spence wants nothing more than to have a normal life. After witnessing her childhood best friend get abducted by monsters, that's easier said than done. At twenty-three years old, Violet cannot seem to move past that fateful night ten years ago. Her only solace is Mages of Velmyra, a tabletop roleplaying game filled with goblins, fairies, and all-powerful magicians. But of course, that's all fantasy.
Or, so she thought. As it turns out, the land of Velmyra is very real and the home of the monsters that took her best friend.
With the help of her friends (and the creator of the game itself), Violet must navigate the once-fictional creatures and powerful mages of Velmyra to retrieve a set of ancient relics—all in the hopes that the journey will lead her back to her friend. But for Violet, fighting monsters and magic workers doesn't seem nearly as terrifying as confronting her own demons. And she'll soon realize fighting the battle within herself can be just as tough as those fought against demigods.
Perception Check is the magical first installment of the Mages of Velmyra Saga, great for fans of Dungeons and Dragons, Critical Role, and The Magicians. With endearing and hilarious characters, an exploration of mental health and trauma, LGBTQ+ representation, gut-wrenching twists, and a whirlwind of an ending, you will never want to leave the world of Velmyra.
NOTE: Perception Check deals with the topics of mental health (specifically depression, anxiety, post-traumatic stress disorder, and suicidality) with mentions of childhood sexual assault, alcohol abuse, and animal violence.
I can't start the review in another way than praising how talented is Astrid Knight as a writer and stating the fact that Perception Check is a masterpiece. I could perfectly stop the review here and it would be a good review, but let's dive into what makes this an outstanding work.
This is a book heavily inspired by DnD and tabletop RPGs; but, at the same time, it also makes an excellent job of describing different mental health issues and bringing the spotlight to them. If you mix that with an outstanding history and great worldbuilding, you are starting to see why I say this book is a masterpiece.
Let's focus first on the D&D/tabletop aspect. The whole plot revolves around an imaginary game Mages of Velmyra, which is real. Astrid managed to portray perfectly how it feels to play the game IRL, and how the sessions are usually; but what is more impressive, the whole time the characters are in Velmyra, it feels like they are actually playing a session, with an invisible hand throwing the dices. Moments like when Adrian has to heal somebody and says «there was a 20% of her dying», it feels so hard as a Medicine throw.
Mental health is also a great focus in this book. How it is shown, how the rest see somebody with problems; Astrid really dives deep into all of these topics in a very realistic way, and personally, I'm grateful she decided to do this. We definitely need more books that bring focus on how difficult is to deal with trauma and different issues, and how the people around may miss what is really happening in your head.
Lastly, but not least important, the plot is really solid. Different from other books, it uses perfectly the first pages to introduce the characters, but instead of showing Velmyra's world directly, it is shown by the game. It is also worth noticing that it takes some of the classic tropes of fantasy but gives them a different twist which definitely surprises you.
In summary, Perception Check is a great novel, one of my favorites in 2022. The plot is really solid, the topics are super well treated and despite having over 500 pages, for me, it felt really short. Can't wait to see the second book of the Mages of Velmyra saga.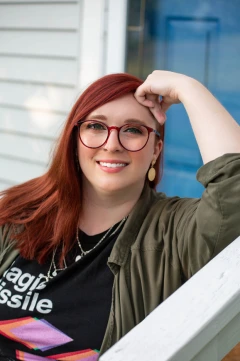 Astrid Knight
For as long as she can remember, Astrid Knight has wanted to tell stories. A native of West Michigan, Astrid fostered a love of storytelling in all forms from a very young age. In 2012, she graduated from Adrian College with a Bachelor of Arts degree in English-Writing and Theatre. Since then, she has been an avid writer, actress, and podcast host. She currently resides in Michigan with her husband, her dogs, Bucky and Oswin, and her pet rat, Nugget.