Pink Guitars and Falling Stars (Rockin' Fairy Tales #1), by Leslie O'Sullivan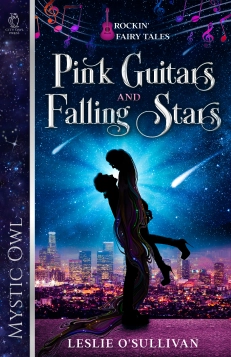 Synopsis:
Zeli's signature pop diva sound and image are nothing short of magical—literally. Her fame comes with hidden costs, a curse that could ruin her voice forever.
Aspiring indie musician, Justin MacKenzie, is determined to kick it to the top of the Rampion Records' Summer Number One professional vs. amateur singing competition.
The favorite to beat in the annual televised contest is none other than the label's smoking hot superstar, Zeli, whose crazy extensions flow the length of a football field. Those ridiculous extensions, coupled with her bubblegum brand of pop are an affront to everything Justin loves about music, until a stolen kiss blazes into a romantic encounter.
Once inside Zeli's world, Justin discovers things are not as they seem. In their quest to allow the real Zeli to step into the spotlight, the pair must confront the mysterious force behind the dazzle of Rampion's success. If these star-crossed lovers can't rally their own magic to defeat the darkness, they will lose everything—including each other.
My Review
(3.5 out of 5 )
Disclaimer: I got a copy for the Book Tour with Escapists. This hasn't affected either the score or the review.
Pink Guitars and Falling Stars is the first book in the Rockin' Fairy Tales series by Leslie O'Sullivan. Let's start by saying that I'm not a big fan of romance (in general, I try to avoid it as much as possible, I'm too cynic for the genre), but seeing it is a retelling of Rapunzel and Romeo and Juliet, I said, let's try because usually, I'm a big fan of using a classic as the base to write a new story.
We are going to mostly be following Justin, an old BASE jumper who wants to get into the pop world by winning the Rampion Records' Summer Number One professional vs. amateur singing competition. The maximum favourite for winning is Zeli, who will be the way we are introduced to how in reality the pop world works, and it's our particular Rapunzel. Despite becoming a pop star as Zeli is, in reality, just a golden cage, as all of her life is controlled by father Gothel, working as a mockup on how in reality the teen pop industry is far from being a dream to the stars, usually being controlled by unscrupulous people, usually having to overwork to keep that «marvelous» status.
Despite initially disliking Zeli, Justin ends in love with her, starting our particular Romeo and Juliet plot, and introducing the romance element to the story. I want to point out that this book worked better for me than others, as it starts slower than it tends to do in most romance books, it also felt more real as instead of being a rose path it has its highs and downs, being closer to what you could feel as a real relationship (taking in account that we are in a fairy tale).
I enjoyed my read through the book, as it is really well written, not feeling too dragging at any point, despite I would say some scenes could have been avoidable in my opinion. The pace during the book is really good, it works super well, despite the final part might feel too fast, especially reaching the end.
In summary, despite not being a fan of the romance genre, it's an enjoyable read for me. I appreciated the criticism of the music industry, which focused on the young stars, which usually end up being burnt after having a super hit (you can just think of Bieber for example). It's a solid book, something that probably a romance fan will like more than me, but despite this, I enjoyed reading it, so if you love retellings, this is a book for you.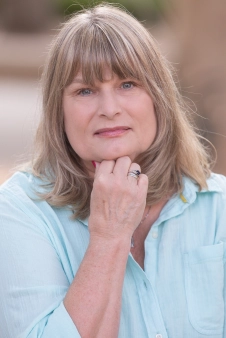 Leslie O'Sullivan
Leslie O'Sullivan is the author of Rockin' Fairy Tales, an adult romance series of Shakespeare/fairy tale mash-ups set against the backdrop of a fictional Hollywood music scene. Coming in September 2022 is her Behind the Scenes contemporary romance series that peeks into the off-camera secrets of a wildly popular television drama. She's a UCLA Bruin with a BA and MFA from their Department of Theater where she also taught for years on the design faculty. Her tenure in the world of television was as the assistant art director on "It's Garry Shandling's Show." Leslie loves to indulge her fangirl side at cons.