Price of Innocence (Sonder's Song #1), by Michelle Piper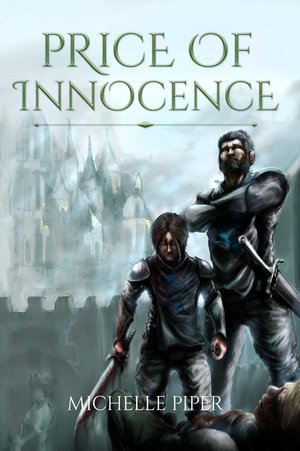 Synopsis:
In an unconventional plot, Queen Aspera enlists four criminals to conceal her role in Sosten's fall. If they don't bend the knee and give unyielding loyalty to her cruel reign, they forfeit their lives. However, when they steal an infant child in the night and destroy his family, they quickly realize how flimsy the queen's justice is.
The infant, Sonder, is the last known descendant of the Auza-Verndari, a blessing given by The Goddess of Stars. He becomes the queen's ward to continue his father's bloody legacy. Growing up alongside him is a Lorist Princess named Rhianwyn, similarly held captive. Despite the joy they find as children, they grow to realize they've become ensnared in her war against their lineages.
Standing between them and Aspera's ambitions is a man named Bran, the last living Black Knight of Old, once a protector of the Auza-Verndari, and Aspera's right hand. When he discovers a sliver of the truth, he convinces the four to defy the queen to protect the children. But when the lines between who they were and who they can become in her shadow blur, their alliance frays. They grapple with what it means to be good when they're the villains bearing torches rewriting the kingdom's history and concealing how deep the treachery goes.
Price of Innocence is the first book in the Sonder's Song trilogy, and the debut novel from Michelle Piper. It is really different from the classic fantasy, avoiding using most of the tropes in the genre, and instead taking the focus on really unconventional characters, becoming a study on, let's call them, evil characters, and how many times they are forced to act as they act due to necessity.
Queen Aspera enlists four criminals in order to conceal her role in the fall of Sosten. To be fair to the criminals, as execution is the other option, they don't really have an alternative but to accept. And even if they don't have too many problems accepting orders, having to kidnap an infant from their family while destroying it, is extreme for them.
All of these mark the start of a character-driven story, in which we are able to see how they develop from the point they kidnap Sonder and bring him to Queen Aspera's presence, where he's trained to become queen's guard. At the same time, a Lorist prince called Rhianwyn is also made a prisoner, so he will grow alongside Sonder.
We are going to be able to follow the development of our several characters, especially of this group of criminals that were forced at the start. While using a really particular style of storytelling, mixing flashbacks with different time jumps, Piper gets to paint the evolution of a group of people that came from really different origins, something that gets also shown in the way they express themselves, having each one a really recognizable voice. I know I shouldn't be admiring Aspera as a character, but I have to admit that despite being the Evil character (in caps, yes), she's really charismatic and intelligent. In general, the characters in Prince of Innocence are really grey, tending to the black side of morality due to their origins.
Somehow, I think my main gripe is also the biggest strength of the novel. The way the story is told, with multiple time jumps, going to the past and to the present several times, is a great way to paint a great portrait of the characters, but sometimes it doesn't help the general pace, slowing it sometimes too much, in my opinion.
In summary, Prince of Innocence is a really good debut from Michelle Piper, painting a really unconventional novel, where we go away from the classic good characters of fantasy and replace them with really grey characters, without entering the grimdark terrain. I really want to see where the second book of this trilogy will take us.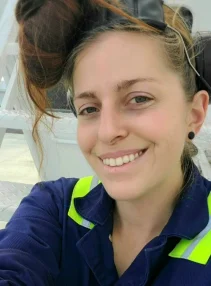 Michelle Piper
Michelle is a Merchant Mariner by the demands of her bank account, and an eclectic creative every waking moment otherwise.
Nearly every story idea of hers is woven while traversing the rocky mountains, or driving through the Western United States. While travel is in her bones, the US has proven an incredible muse. Her travel goals are to drive down the Baja peninsula, then up the Pacific Coast Highway until it ends.