Season of Kings (The Raven's War #1), by A.J. Rettger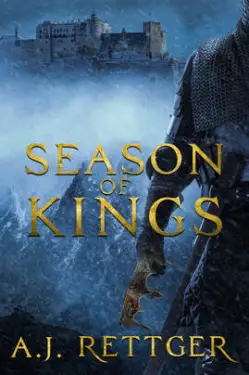 Synopsis:
War is upon the land and the throne sits empty. Who will claim it?
Elbert of Artanzia finds himself in a precarious position. After stealing the throne from his older brother, he finds himself newly crippled and low on friends. The nobles want to undermine him, while the populace wants to depose him. In a desperate attempt to keep his power, he launches a campaign against the barbarian islanders to the north, something that no king has ever done.
In the forest to the south of the capital, lives Anna and her father. While raised in isolation, Anna is taught how to hunt and kill everything that makes its home in the monster-infested forest. However, her quiet life is torn apart when a group of visitors pay her father an unexpected visit. Forced to flee to the capital city, she must find her long-lost aunt, all while fighting to protect herself and socializing with other teenagers for the first time.
Grimm White-Eyes, a legendary barbarian warrior and Shield of the Isles, is accused of murdering the Islander High King's brother. With a price on his head, he must flee his homeland and find refuge on the continent. Yet no ship will risk carrying someone of his notoriety. Unable to leave, he is forced to ally himself with the enemy, in hopes that he can continue to live his life as the gods intended, free.
My Review
(4.25 out of 5 )
Season of Kings is the first installment of The Raven's War, which is planned to be a trilogy. It's the second novel from A.J. Rettger, and it shows how he can become one of the voices in grimdark fantasy.
It is written as a succession of different POVs, which is something that I particularly like when it comes to showing a world without forcing the info. We see it through the eyes of three different characters mainly: Grimm, Anna, and Elbert.
Grimm is the archetype of a grey moral character, one which is definitely hit by life and that has become the worse just to survive, as he is forced to flee to the islands. Even at the start, you can see how his actions speak for him, and also it serves as a way to make the reader understand that we are into a grimdark book and that gritty and brutal situations will happen. But even from him, we can see positive things, and how he can be protective of others.
Elbert is an interesting character, and also a representation of disability in the novel. As a king who has reached power unexpectedly, he will have to fight against all his political enemies, which throws him into trying the conquest of the Northern Islands. I always admired brilliant characters who try to overcome their disabilities with intelligence and machinations, and I think he fits perfectly in that spot.
Anna is the third character, and probably the one who has the hardest story. Living with his father in the forest until circumstances force her to a travel to find her uncle, had to experiment a harsh world, and had most of her first contacts with the human race.
Plotwise, it's a really fast book. Things are always happening, and the fight scenes are really well painted, despite it has a small chaos element that can be not of the taste for all people. It doesn't waste time at all trying to dump info at you, and as said before, that's something I enjoy.
If you are a person who likes hard worlds, grey moral characters, and a ton of action, this book is for you. Any grimdark fan will enjoy Season of Kings and would recommend them to give it a try. I think A.J. Rettger has great potential, and I want to see what more he is capable of.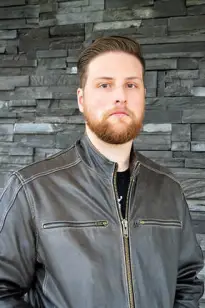 A.J. Rettger
A.J. Rettger lives on a farm near the small town of Aberdeen Saskatchewan with his dog, Zeke. He has a bachelor's of education degree, as well as a certificate from a private vocational college. His hobbies include playing Dungeons and Dragons, listening to heavy metal, and reading and writing fantasy books.