Shadow of a Dead God (Mennik Thorn #1), by Patrick Samphire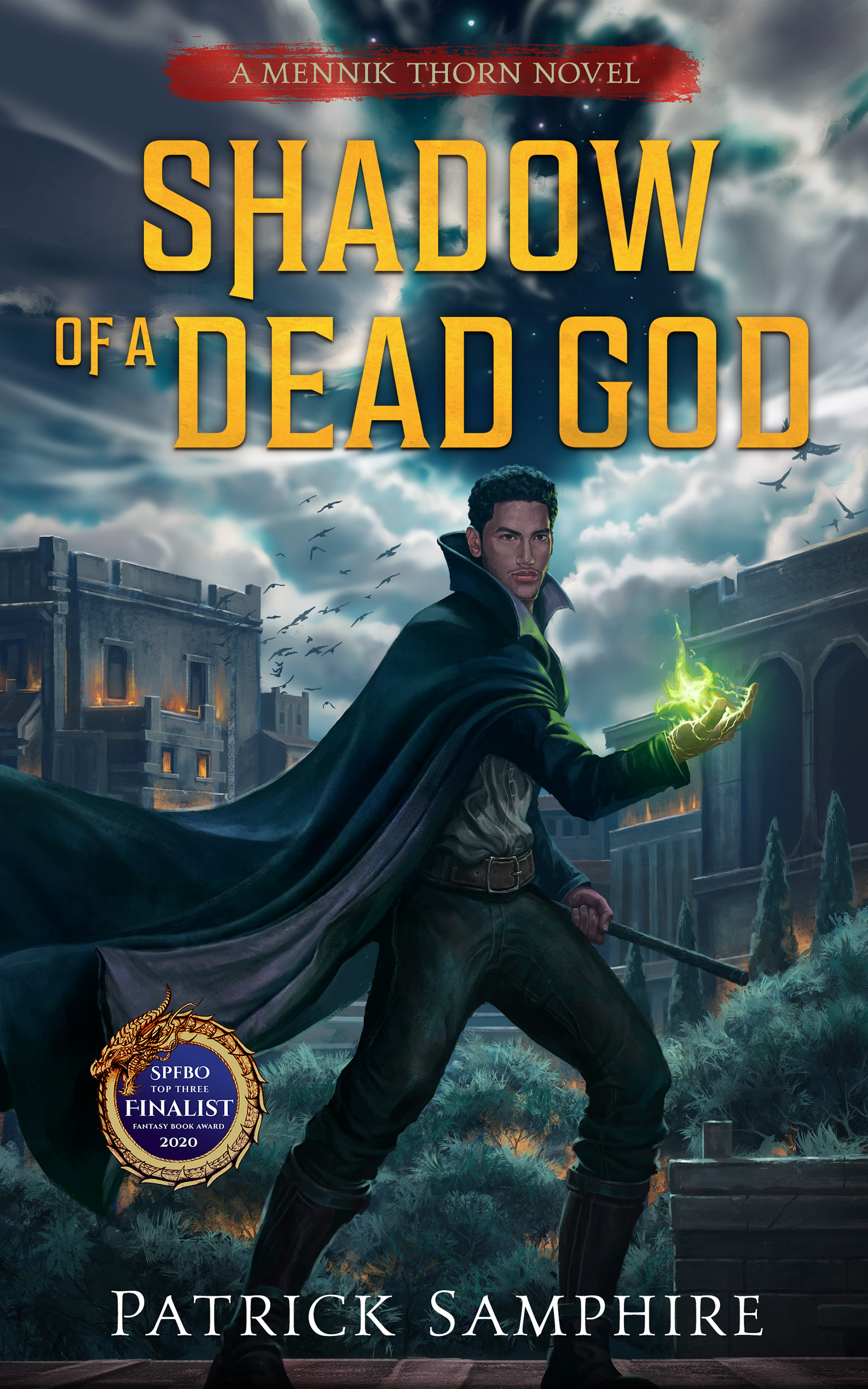 Synopsis:
If Mennik Thorn had known the morning would end with him being framed for murder, he would have stayed trapped in the cupboard.
It was only supposed to be one little job – a simple curse-breaking for Mennik to pay back a favor to his oldest friend. But then it all blew up in his face. Now he is wanted for murder by the mage-killing Ash Guard, his best friend is about to be executed, and something monstrous is killing all the witnesses.
So how is a down-on-his-luck mage, broke, traumatized, and with a habit of annoying the wrong people, supposed to prove his innocence when everyone believes he's guilty?
If he wants to get out of this, he is going to have to throw himself back into the corrupt world of the city's high mages, a world he fled years ago.
Even that may not be enough, because a new, dark power is rising in Agatos, and all that stands in its way is one second-rate mage…
Third place in the Self-Published Fantasy Blog-Off 2020 (SPFBO6)
Finalist in the Book Bloggers' Book of the Year Award (BBNYA) 2021
Shortlisted for the Booknest Fantasy Award Best Self-published Novel 2020
Shadow of a Dead God is the first installment of the Mennik Thorn series, by the British author Patrick Samphire. In this book, we are going to be following Mennik (Nik for friends), a second-class mage in the city of Agatos, who survives taking questionable jobs, bordering the indigency. He accepted a work expulsing the ghost for a rich family, getting the "privilege" of sleeping in their cupboard; but after getting fired, he gets into a robbery job with his oldest friend Benny.
Nik can't imagine that this job will end with him as wanted for murder by the Ash Guard, with his friend Benny in line to be executed. It's time to start a crazy run gathering enough evidence to prove Benny and him were just in the wrong place at the wrong time. This is the main premise of this novel, a blend between epic fantasy, a detective noir story, and some kind of urban fantasy.
The style of this novel is kinda interesting, starting with a first quarter that serves more as the introduction to Nik and his world, how despite his origins he's surviving accepting bad jobs, and how those circumstances have brought him to the situation we are seeing. This incident serves as the catalyzer to start a crazy run around the city, investigating the mystery behind the assassination of the server of the Mage; Samphire uses it with mastery to develop the world, giving some hints on what can be behind it, and seasoning with dialogues infused with sarcastic and gritty humor.
Stakes grow at some point, and what was a simple run to prove Benny's innocence becomes a mission to stop darker forces to join this world. Magic system is interesting, with several rules that Nik follows, and that also help to limit his power, establishing Nik as no more than a mediocre one.
Most of the characters are great, Nik being the one that takes the spotlight during the whole novel; despite I enjoyed so much how he is a sarcastic person, somebody who will give as much as he can to protect his friends, at some point I felt a little bit frustrated by the number of times he's defeated by enemies. The equilibrium between the three big mages in the city of Agatos is also an interesting theme to follow.
The final quarter of the novel is fast-paced, and with almost no moments to rest. Samphire manages to give a satisfying conclusion to this novel, with Nik taking the paper we could have expected from the start; and also satisfying the curiosity that the mystery raised during the whole novel.
Shadow of a Dead God is an excellent novel, really recommendable for people who enjoy mysteries in the middle of their epic fantasy novels. I certainly devoured it, reading it in two nights, as I always felt the urge for one more chapter; I can assure we will come back soon to Agatos.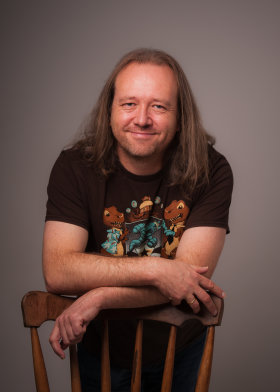 Patrick Samphire
Patrick Samphire is the author of the adult fantasy novels SHADOW OF A DEAD GOD, NECTAR FOR THE GOD, STRANGE CARGO, and the forthcoming LEGACY OF A HATED GOD, as well as the middle grade novels SECRETS OF THE DRAGON TOMB and THE EMPEROR OF MARS. He has published around twenty short stories and novellas.
Patrick has been writing stories since he was fourteen years old and thought it would be a good way of avoiding having to sit through English lessons at school. He was absolutely convinced that he would be famous by the time he was eighteen, but sadly, even infamy has eluded him.
He lives in Wales, surrounded by mountains, with his wife, their sons, and their cat.
When he's not writing, he designs websites and ebooks.
He will now stop talking about himself in the third person.