The Alchemy of Sorrow, edited by Sarah Chorn and Virginia McClain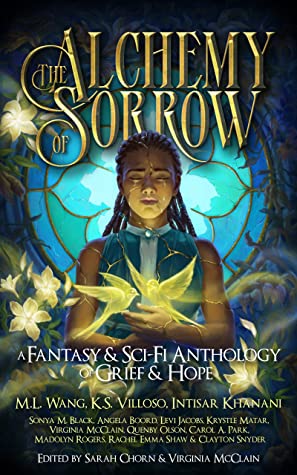 Publisher:
Crimson Fox Publishing
Synopsis:
Here be dragons and sorcery, time travel and sorrow.
Vicious garden gnomes. A grounded phoenix rider. A new mother consumed with vengeance. A dying god. Soul magic.
These stories wrestle with the experience of loss—of loved ones, of relationships, of a sense of self, of health—and forge a path to hope as characters fight their way forward.
From bestsellers and SPFBO finalists to rising voices, 13 exceptionally talented authors explore the many facets of grief and healing through the lens of fantasy and sci-fi.
My Review
(4.5 out of 5 )
First of all, let me all of you recommend getting this anthology, you won't regret it!
The Alchemy of Sorrow is an SFF anthology containing 13 great stories, centered around the themes of grief and sorrow. I have to admit that this is a book that I had to change my way of reading, spacing days between reading one story and others because each time I finished one it resonated so hard, taking my emotions to the point of being just at the skin, so I needed to take it easy, palate each different story.
This anthology is a good example of why the SFF genre is an excellent way to touch certain themes, give different twists on them, and make the deepest exploration possible; while always keeping a ray of hope with each one. Sometimes going far from our reality is the best way to take a look at ourselves, and the fantasy/sci-fi settings act perfectly as catalyzers for that exact reason.
It is difficult to give a general score to an anthology as varied as this, but in general, I wouldn't say any of the stories deserve less than 4 stars. Featuring some of my favourite authors, and some unknown names to me, it is an excellent collection, that again, makes an excellent labour portraying grief and sorrow; it has also put some authors on my radar, as I haven't read previously anything of them. Just to highlight some of the stories, my favourite ones were:
A Matter of Trust, by Angela Boord.
Thief, by Virginia McClain.
Death in the Uncanny Valley, by M.L. Wang.
The Paperweight Watch, by Krystle Matar.
It wouldn't be fair to close this review without also talking about the excellent artworks that accompany each story, made by the fantastic artist that is Kerstin Romero, adding another layer of beauty to this anthology. Each single of the stories is by itself a piece of art. I can just say that seriously, thank the editors, the authors, and the artists to let me experience this anthology, because it has been a great experience.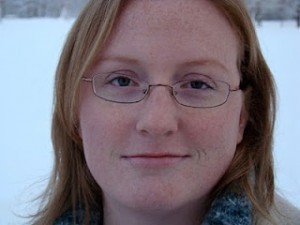 Sarah Chorn
Sarah has been a compulsive reader her whole life. At a young age, she found her reading niche in the fantastic genre of Speculative Fiction. She blames her active imagination for the hobbies that threaten to consume her life. She is a freelance writer and editor, a semi-pro nature photographer, world traveler, three-time cancer survivor with hEDS, and mom to two. In her ideal world, she'd do nothing but drink lots of tea and read from a never-ending pile of speculative fiction books. She has been running the review blog Bookworm Blues for over ten years, has been editing books for four, and has been a published author since 2019.
Virginia McClain