The Assassin of Grins and Secrets (Grinning Assassin #1), by K.E. Andrews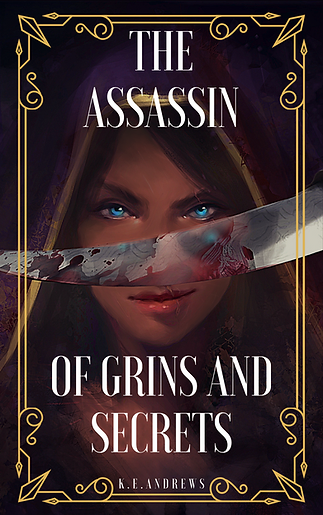 Synopsis:
Once the infamous assassin who killed with a smile, Serein now waits for death in the fighting pits of the Harpy's Chest. When the crown prince of Sarddon, Rameses al-Amirmoez, seeks her out with an offer of freedom if she serves as his guard, she must decide whether to work for those who ravaged her homeland or die.
Rameses wants to believe that the war his father started was justified, but he has heard rumors and seen a cruelty in his father that causes him to question everything he's been told. To find answers, he needs Serein.
Uriah Stormheir, Captain of the Oyon's city guard, finds himself caught between his duty to the crown and his friendship with Rameses. His distrust for Rameses' new guard runs deep. As Uriah wrestles with guilt from his past, he must work alongside the dangerous assassin whose true motives are hidden underneath her scars and dark grins.
In a land of hot sands and dying magic, Serein plays the game of secrets with Uriah and Rameses, knowing one wrong step could end her life. As the shadows of her past catch up with her, she has to choose between pursuing vengeance and protecting a secret only she knows.
My Review
(4.75 out of 5 )
The Assassins of Grins and Secrets is an excellent debut novel from K.E. Andrews, set up in what has become one of my new favourite fantasy settings, the ones based on the Arabic world. Throw into the mix charismatic characters, excellent descriptions, and an engaging plot, and you will get a really good idea of what AOGAS felt for me.
We are introduced to Serein, a young assassin who is basically waiting for her life's end in the fighting pits until she's rescued in order to work as the bodyguard of Rameses al-Amirmoez, who offers her the freedom once the contract is finished; giving her a big moral dilemma, as it would mean for Serein working for the people who ravaged her homeland. Having virtually no margin to choose, she accepts, meaning that she will have to protect Rameses and serve him, which also makes her closer to the man responsible for the tragedy of her homeland.
It's important to remark that this will become a character-driven story. Despite Serein will have the spotlight most of the time, the conflicts of other characters also become important. Rameses is struggling to try to conciliate the image he has of his father, the king, and the despicable acts that have happened under his leadership; he needs Serein to confirm the conspirations that are happening, forcing her to play a dangerous secret game. At the same time, Uriah, captain of Oyon's city guard, is having problems balancing his friendship with Rameses and his duty with the crown; and on top of that, he is being forced to work with Serein, despite that he has difficulties trusting her.
The development of trust between these three characters becomes an angular part of the novel, reflecting perfectly on how the relationships between people may vary depending on what happened. It is especially interesting to see the development of trust that happens between Uriah and Serein, being forced to become unexpected allies, especially after the past of Serein comes back to haunt her. Because Serein is a woman whose past is not going to let her live peacefully; Andrews makes excellent work reflecting on certain aspects of Serein, as you can appreciate whenever Serein analyses a person, a reflection of her old live as an assassin.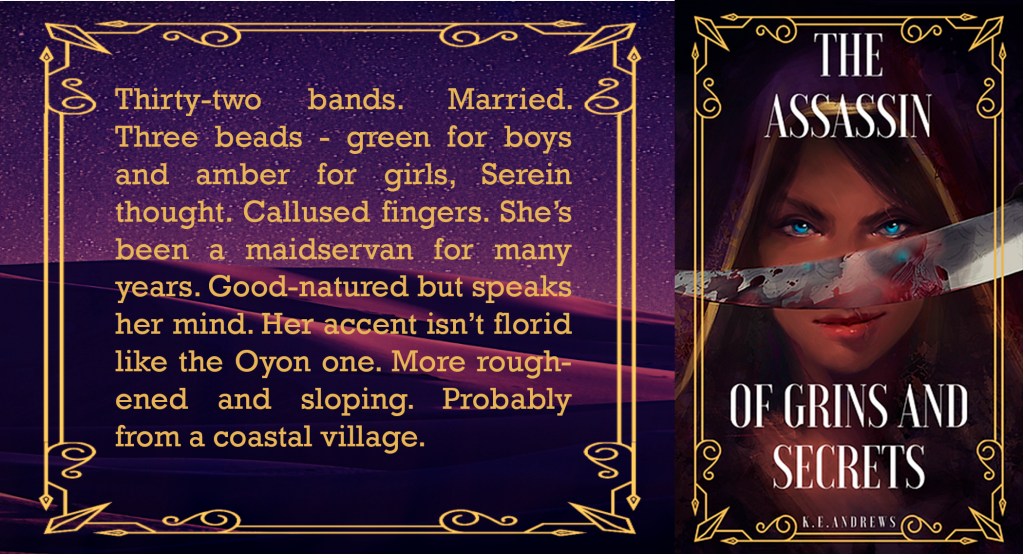 Andrews weaves a world of which you want to know more. The Arabic setting is charming, with several aspects that are carefully crafted, making use of really beautiful prose, and being especially remarkable in the use of descriptions (and more in concrete, food descriptions will make you feel hungry while reading). We are going to pass most of our time in the city of Oyon, mostly seeing the rest of the locations through the past flashbacks of Serein. It must also be stressed that all of this worldbuilding feels organic, with really interesting vibes on this Arabic-based universe, a mix of cultures. I would also like to remark that it is a low fantasy world, with the magical elements being kept to the minimum.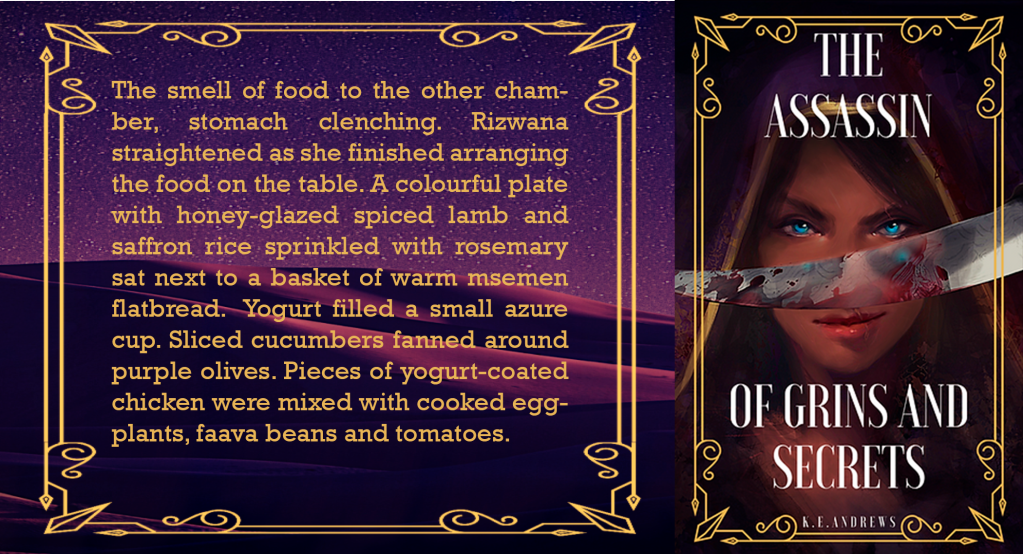 This book felt really short to me despite the number of pages it has. I greatly enjoyed reading it, so I hope it advances in the SPFBO8. I greatly recommend this book to readers who enjoy different settings from the classic medieval trope and to those who want character-driven fantasy, with tense political plots. I will keep an eye on the next K.E. Andrews works, because The Assassin of Grins and Secrets is a great debut, and a great demonstration of the potential she has as an author.

K.E. Andrews
K.E. Andrews has always been an avid reader, which sparked her passion for writing at an early age. Most days she spends her time daydreaming about stories and making mood boards. When she's not writing, she tends to her plants, plans out her next crafting project, and binge-watches shows on Netflix. She currently lives in Powder Springs, Georgia with her family and three cats.