The Book of Gothel, by Mary McMyne
Synopsis:
Everyone knows the tale of Rapunzel in her tower, but do you know the story of the witch who put her there?
Haelewise has always lived under the shadow of her mother, Hedda—a woman who will do anything to keep her daughter protected. For with her strange black eyes and even stranger fainting spells, Haelewise is shunned by her medieval village, and her only solace lies in the stories her mother tells of child-stealing witches, of princes in wolf-skins, of an ancient tower cloaked in mist, where women will find shelter if they are brave enough to seek it.
Then, Hedda dies, and Haelewise is left unmoored. With nothing left for her in her village, she sets out to find the legendary tower her mother used to speak of—a place called Gothel, where Haelewise meets a wise woman willing to take her under her wing.
But Haelewise is not the only woman to seek refuge at Gothel. It's also a haven for a girl named Rika, who carries with her a secret the Church strives to keep hidden. A secret that unlocks a dark world of ancient spells and murderous nobles behind the world Haelewise has always known…
Three times I started this review, and three times I scrapped it. The Book of Gothel was one of my most awaited books this year, and it hasn't disappointed; as a big fan of historical retellings of tales, I love the result of Mary McMyne's work.
The Book of Gothel twits Rapunzel's story in a really interesting way, but instead of following the child, it follows the path of the girl that we will finally know as «Mother Gothel». And this means that we will follow the life of Haelewise.
Apart from being a really good book, I love how well documented it is, making the historical framework in twelfth-century Germany really accurate, being really faithful to the details, which made me appreciate the book even more, as you could feel standing there, experimenting it.
Despite being a story focused on the characters, mainly in Haelewise, is also a story about the Mother and Christianity, and even I could say about harmony. It hooks you from the start and doesn't let you stop reading until you reach the end.
In definitive, I think this could qualify as one of my favourite books of the year. It is wonderfully written, with excellent prose; the main character is really interesting and we will empathize with her in a few pages. I can't recommend this book enough, especially if you like historical fiction and/or fairytale retellings.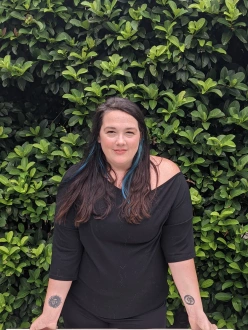 Mary McMyne
Mary McMyne has widely published stories and poems in venues like Redivider, Gulf Coast, Strange Horizons, and Apex Magazine. Her debut fairytale poetry chapbook, Wolf Skin (Dancing Girl Press, 2014), won the Elgin Chapbook Award. She has received the Faulkner Prize for a Novel-in-Progress, an NEA parent fellowship to Vermont Studio Center, and a grant from the Sustainable Arts Foundation to research The Book of Gothel in Germany. A graduate of the New York University MFA Program, she lives in the greater Atlanta area with her family and their very handsome border collie.