The Doctrines of Fire (The Edinburgh Doctrines #1), by CL Jarvis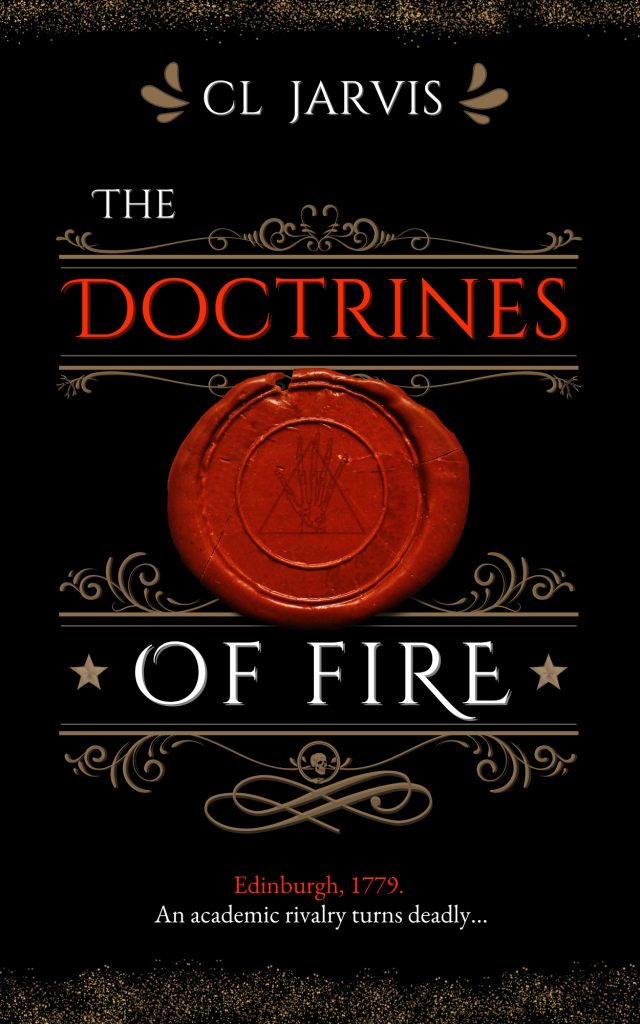 Synopsis:
Edinburgh, 1779. An academic rivalry turns deadly.
George Stephens is a lousy medical student. Lacking the social and financial resources to succeed in Edinburgh's elite medical school, his dream of becoming a physician appears over before it began.
Then George comes to the attention of two famous professors, William Cullen and Joseph Black. Medical students are dying mysteriously - the professors suspect a disgraced former student is to blame - and they need George's help uncovering the truth. Believing the partnership will bolster his academic standing, George agrees.
Their investigation pulls them into the murkiest, most dangerous corners of Enlightenment Edinburgh. The professors are secret wielders of fire magic, but their foes are courting even darker forces. With violence threatening to erupt, and George struggling to navigate this confusing city, getting justice for the dead will be harder than he imagined.Ninth House meets A Declaration of the Rights of Magicians in this thrilling fantasy debut from CL Jarvis.
The Doctrines of Fire is the first book in the historical fantasy series The Edinburgh Doctrines, written by CL Jarvis, and one of the SPFBO9 entries. Set in the Enlightenment Edinburgh, we are going to be following the shenanigans and internal fights among the medical community; a book that shows a heavy work of documentation and investigation, creating a really accurate depiction of the historical period.
George Stephens is a medical student, trying to get the social and financial resources to continue his formation in the Edinburgh's medical school; and honestly, that dream seems to be moving away. That's until he gets contacted by two respected professors: William Cullen and Joseph Black; some medical students are dying, and they need George's help to uncover if their suspects are true (a former medical student seems to be related). George accepts, thinking it might bring him closer to the resources he needs to fulfill his dream.
With this premise, we get immersed in the Enlightenment Edinburgh, in the academic life related to Edinburgh's medical school; a setting where Jarvis doesn't spare details to make it as accurate as possible, from historical characters to buildings, and as a medical student myself, I can say the details of dissections and different medical theories were excellently portrayed.
And while a big emphasis is put on the historical part of historical fantasy, we must not forget the fantasy; our professors can wield fire magic, and our principal antagonist, Brown, is investigating the nature of it, taking some risks in order to create a vessel where the phlogiston, the force behind it, can be stored.
The pacing is relatively fast, making this a quick read, that makes you flow through the pages. This comes with a slight problem, as I feel we don't really have time to see the characters evolve through the plot. Nothing big, but I would like to know more about them.
I would like to mention a last detail before closing this review, regarding the body to body fights. It is difficult to make them accurate, especially with the dirtiness they sometimes bring, but Jarvis has nailed them; they feel realistic, describing perfectly some sensations attached to them.
In conclusion, if you are looking for a really well research historical fantasy novel, The Doctrines of Fire is a perfect election for you. I'm really happy to read the next books in the series, as I suspect we will explore more powers and elements, and the accuracy is simply outstanding.