The First Five Minutes of the Apocalypse, edited by Brandon Applegate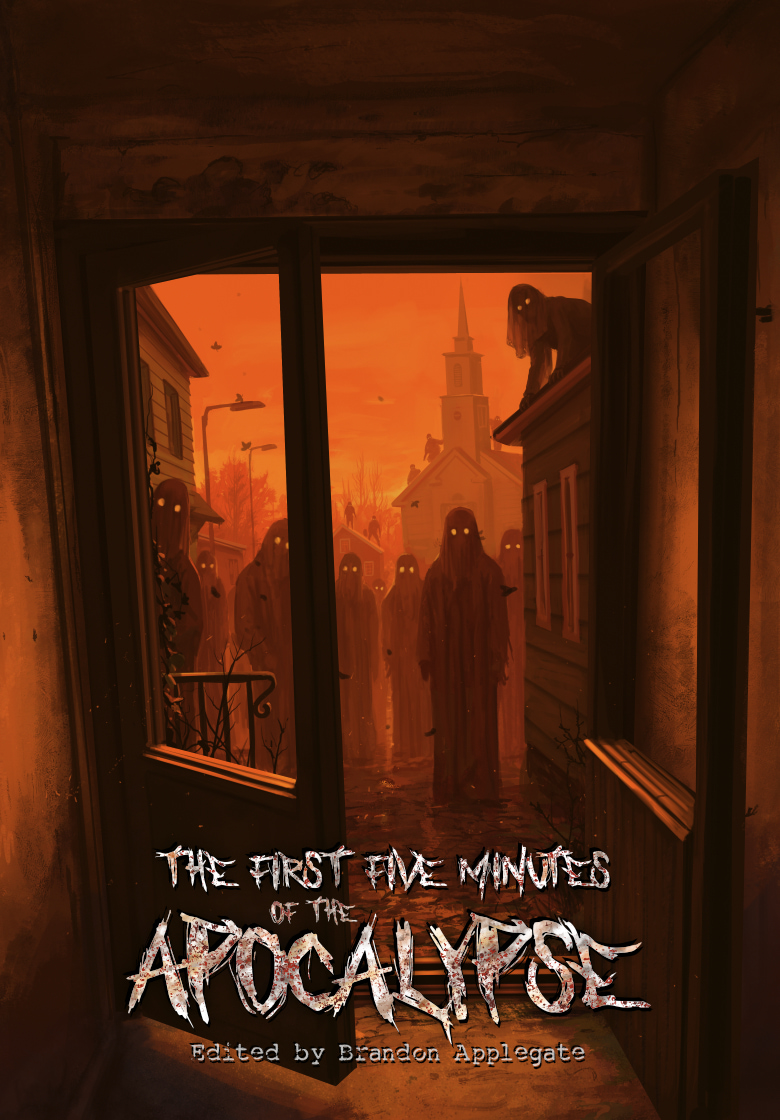 Synopsis:
This is not a book about the apocalypse.
In these pages, you won't find the hero. You won't find the ticking clock. You will not be in the room when they press the big red button. Instead, you'll find new life in the face of certain death, a boy whose prayers are answered in the worst way, mothers and sisters and friends who just want another second with their loved ones, and those who just want a moment to themselves.
These are the stories from the ground. The experiences of those who saw the world come to its violent conclusion, and what really mattered at the end of all things.
Featuring original fiction by Taryn Martinez, Carson Winter, D. Matthew Urban, Sara Tantlinger, Alex Fox, Tiffany Michelle Brown, Angela Sylvaine, M. Lopes da Silva, Andrew Cull, Ruth Anna Evans, Wendy N. Wagner, Gwendolyn Kiste, Olen Crowe, Brittany Johnston, Elou Carroll, Nick Bouchard, L. Marie Wood, W. Dale Jordan, Elford Alley, Chris Mason, Matthew M. Bartlett, Madison McSweeney, Rae Knowles, RJ Joseph, Emma E. Murray, V. Castro, Eoin Murphy, and J.A.W. McCarthy
My Review
(4.25 out of 5 )
Reviewing anthologies is usually a difficult task. Your usual scales tend to not fit as well when there are several stories; and in the case of this anthology featuring several short stories, it's even more difficult.
The First Five Minutes of the Apocalypse is a short stories anthology, edited by Brandon Applegate at Hungry Shadow Press, and that features the work of many talented writers. All the stories are related, as they are covering how normal people, not heroes or villains, would live those minutes when the world is ending.
While I personally enjoyed reading this book, due to the prompt used, you can feel some discomfort in the experience; some stories pack so many emotional punches, and the fact you are seeing normal people struggling hits harder than usual.
The length of the stories worked in a great way, as most of them were around 5-8 pages (if I remember correctly, 2k-5k words were the submission limit). It's perfect for reading one short story, taking a breath to think about it, and continuing with the next one.
I should mention two details that I thankful they decided to include: a content warning table at the end of the book, so if you are triggered by something specific you can actively avoid it; and the small details in the physical edition including some images at the start of each chapter.
If I have to choose three stories/authors from this anthology, I think Rae Knowles, D. Matthew Urban, and Carson Winter nailed perfectly the gravity of the prompt.
Personally, if you like a different kind of horror, that will make you feel deeply uncomfortable, I recommend this anthology. A really different book, but exactly for that, a great book.