The Hunters (Tales of the Plains #1), by David Wragg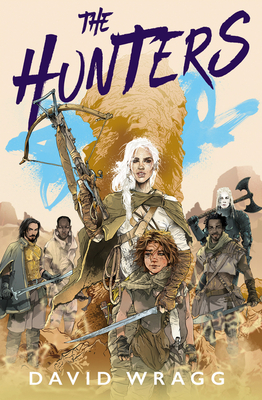 Synopsis:
She's on the run. They're out to kill.
But what happens when you catch a hunter?
Ree is a woman with a violent past – a past she thought she'd left behind. After years of wandering, she and her niece Javani have finally built a small life for themselves at the edge of the known world.
But sometimes the past refuses to stay there, and Ree is about to catch up with her. This time, there will be blood.
For the land is in turmoil and professional killers have arrived in their town looking for an older woman and child, setting off a desperate chase through deserts, mountains, and mines. Ree will have to discover her former self if she is to keep them both alive.
The Hunters is the initial book in the Tales of the Plains trilogy, a new series written by David Wragg. A fast-paced and full of twists Western story, a tale of what happens when the past comes back to bite your ass, following the story of Ree, a woman who left behind a life of blood and violence, and Javani, her niece and protegee.
Ree has been looking for years for a safe place to live with her niece, Javani; she was tired of her past life, and it seems they've found it on a small farm in Kazerak. It may not be what Ree was expecting some years ago, but the well-being of Javani is her main worry. But when some professional hunters appear looking for an older woman in the company of a young girl, who seems to have blood ties with the royalty, Ree soon understands that her peace time has ended.
Our pair of main characters will be forced to start an escape across the Plains and the Mining Country, plagued with encounters with quirky and memorable characters, such as the Aki-Anashe duo; Ree will show how she's hardened by battle, but still emotionally attached to Javani (even if their relationship is not really as clear), while Javani will continuously grow as a character.
The story, while it has a big emotional charge, especially toward the end, is injected with humor and jokes; it works as a counterbalance to the world the story is set, gritty and dark. I would call it close to grimdark, actually, because the characters tend to end on the grey side of morality, but it fits better in the Western fantasy bracket. The pacing is incredibly fast, pairing well with a plot full of action and fights.
The Hunters is an enjoyable read, which lands on the darker side of fantasy, and which will be loved by those that are looking for some more Western in their books. Curious to see how the series evolves as the ending is quite auto conclusive.