The Moonsteel Crown (Dominion #1), by Stephen Deas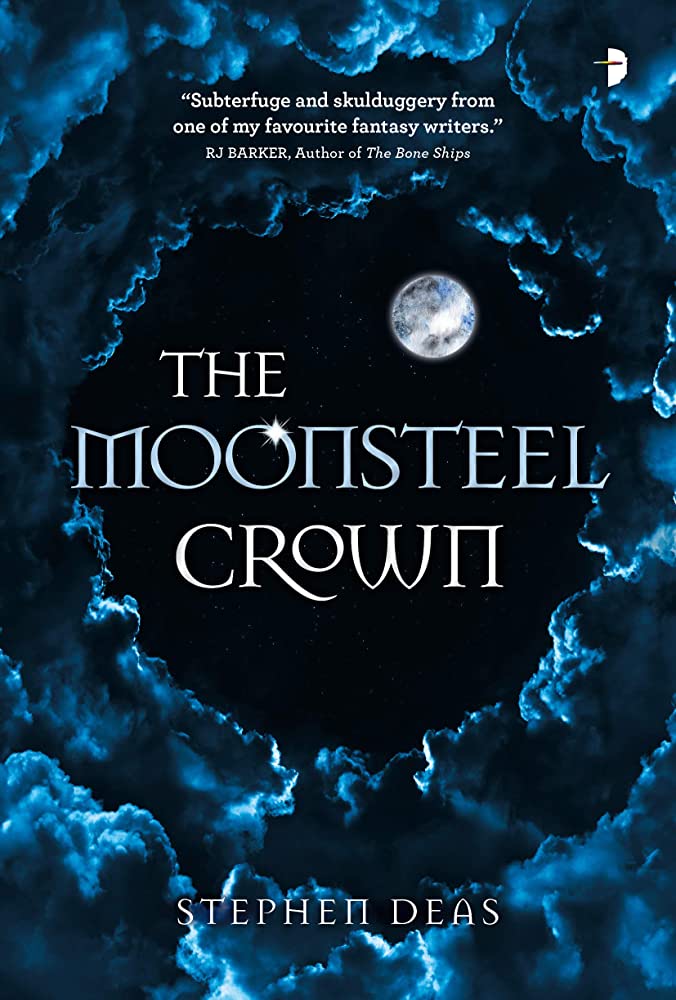 Synopsis:
The Emperor of Aria has been murdered, the Empire is in crisis, and Dead Men walk the streets...
But Myla, Fings, and Seth couldn't care less. They're too busy just trying to survive in the Sulk-struck city of Varr, committing petty violence and pettier crimes to earn their keep in the Unrulys, a motley gang led by Blackhand.
When the Unrulys are commissioned to steal a mysterious item to order, by an equally mysterious patron, the trio are thrust right into the bitter heart of a struggle for the Crown, where every faction is after what they have.
Forced to lie low in a city on lockdown, they will have to work together if they want to save their skins... and maybe just save the Empire as well.
My Review
(4.25 out of 5 )
The Moonsteel Crown is the initial book in the Dominion series, by the prolific writer Stephen Deas. A complex story, spawning conspiracies, murder, and betrayal; a quite interesting setting where the main strength of the book will shine, the characters.
This story is going to be focused around our three main characters, all of them loosely part of the gang known as the Unruly: Seth, a former novice thrown in disgrace; Myla, a sun-monk looking to forget her past; and Fings, a pickpocketer. They are not exactly good people, but it's not possible to call them evil, when most of their actions are just pursuing survival.
It is interesting how each one has a different voice, you can see Myla being a strong and decided woman, meanwhile, Seth is more eccentric, conversating with himself many times. And Fings is just Fings.
With this in mind, we get to see how the Unruly band gets involved in the stealing of something they certainly didn't expect; they have been caught in the middle of a conflict with bigger proportions than they are ready for. And honestly, this is probably one of the brightest decisions made by Deas: while there is a big conflict ongoing about the Emperor's succession, and the Dead Men are on the streets, this is a story about this group of people. Simple people, whose main motivation is just maintaining themselves alive.
The novel is mostly placed in the city of Varr and around it; something that is not common in epic fantasy, a setting that is relatively small in comparison with the world, which is mostly introduced organically through dialogues.
A well-developed setting, which you can feel alive, especially as we are following the story of common people, even if at some point get crossed with epic stakes. Personally, I enjoyed so much how well-detailed are religions in this world, and how the small details are relevant to the story.
The Moonsteel Crown is a great introduction to a new series by Stephen Deas. If you are looking for fantasy with epic scopes, but whose setting is smaller than usual, this book would be perfect for you. And honestly, can't wait to continue reading the adventures of our three characters!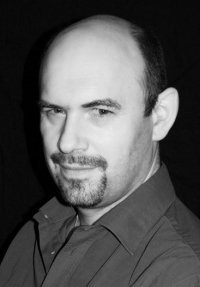 Stephen Deas
Stephen Deas was born in Southeast England, in 1968, and mostly brought up in a town full of retired colonels. His early memories largely consist of running around building sites and being able to spell 'colonel' at an unusually early age. Like most people of that age, he took to making up imaginary friends to supplement my real ones. Unlike most people, he never quite stopped, and has been writing about them in one form or another ever since.
Aside from writing books, he has, at various times, been obsessed with mathematics, classical piano music, kung-fu, particle physics and Sid Meier's Civilisation (the original). Anything that explodes is fascinating, rockets are irresistible, but those are genetic things and thus Not His Fault. There were some years when life was quite unlikely, took him to some interesting places and offered unusual things. The first time he went on holiday abroad, a war broke out. Also, he would like you to not tell the bomb-squad where he lives. Once was enough.
Deas is the author of more than twenty novels covering fantasy (which he writes under his own name and as Nathan Hawke), crime (as SK Sharp), science fiction (as Sam Peters, or as Gavin Deas when co-authoring with that notorious bad boy of SF, Gavin Smith) and historical fiction (as SJ Deas). As well as his novel works, Deas is collaborating on bringing a post-apocalyptic version of Robin Hood to the small screen, and desperately trying to convince Netflix that what it really needs is a show centred on Irene Adler.
Deas now lives in a different part of South-east England with his wife and two boys where he continues to pretend to be other people, most frequently A Responsible Parent(TM).