The Pyres of Vengeance (Swords of Dominion #2), by NC Koussis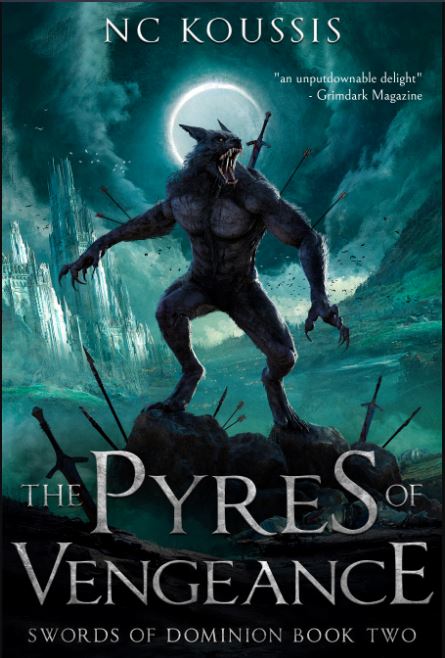 Synopsis:
Game of Thrones meets The Witcher in this epic grimdark fantasy where no one is safe.
After losing everything she knew, Selene struggles to keep hope alive. Terrifying threats from the capital test her in ways she never thought possible.
Richter can't destroy himself or the corruption that lives in his body. He won't let anything stop him from his mission, though - to kill every other werewolf on the Continent.
The Order of the Golden Sword cares not for the laws of men. They'll do anything to wipe the lycanthrope haven of Palerme from existence. But no one has ever faced an army of werewolves before.
My Review
(4.5 out of 5 )
The Pyres of Vengeance is the second installment in the Swords of Dominion series, by NC Koussis. After a promising debut with The Sword of Mercy and Wrath, this second novel consolidates Koussis as one of the grimdark voices to keep an eye on, as he has created a really dark and compelling story, drawing some inspiration from historical sources, such as the Albigensian Crusade.
After fleeing from the Order in Book 1, Selene has established in Palerme, creating a safe space for the lycanthropes. On top of the stress of leading the capital, she will soon become a mother, another reason to ensure they can create a haven in Palerme.
The Order is not willing to let Palerme on the map, and less knowing Selene is leading them. The laws of men don't apply to them, not to God; sacrifices must be made in order to eradicate the plague from the Continent. And they have one of the best weapons in order to fulfill this purpose: Richter, whose fanatical faith is in conflict with the corruption inside him.
The story in this second book takes a more epic scope, without forgetting its grimdark tones. Selene will have to navigate the complex waters of politics, as defending Palerme against the crusade declared by the Order will become a matter of life or death; and while they are vastly outnumbered, nobody has to fight against an army of werewolves.
And while we have this face of Selene, lady of Palerme, a politician and a leader, at the same time she will be struggling with motherhood. With almost no time to care for Tristain, she will be forced to delegate his care to other hands, bringing her the thoughts of being a bad mother for it; Koussis wrote here a really interesting dilemma, and that reflects in many cases the situation of working mothers, so my props to him for tackling such a difficult theme.
On the other side of the story, we have Richter, one of the most efficient inquisitors, but who has inside the curse of lycanthropy. His fanatical faith will make him one of the most efficient tools for the Order, blindly following the orders given, hoping he could get a cure. Richter is just a man struggling with his own existence, conflicted as he is one of those that he swears to destroy. As a second POV, it works perfectly to show the other side of the crusade.
A complex and intricated plot that is not short on carnage and blood, as Palerme is marked to be destroyed by the Order. Pacing is slower in comparison with the first book, but it builds a lot of tension, which is exploded once the assault on the city is started, having some of the best action scenes of the whole series here.
The Pyres of Vengeance is a really epic sequel, without forgetting its grimdark elements. It sets up a bigger conflict that I hope gets developed in subsequent books; the historically inspired elements are one of the biggest draw-in for me. Hopefully, we get soon a third book to continue with Selene's story!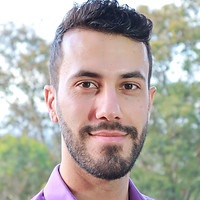 NC Koussis
NC Koussis was born in Perth in 1993 to Greek and Kamilaroi ancestry. He has moved all around Australia, settling in Newcastle for the moment, where he lives with his wife, son, and staffy dog, Nala. He's been writing fantasy books since he was a little boy, after falling in love with Lord of the Rings and Harry Potter. He decided to publish a book in 2019, and it only took him three years. He considers himself an enthusiastic amateur of medieval history, historical battles and tactics, and food. When he's not writing, he's making sourdough bread and working on a PhD in neuroscience.