The Sword of Mercy and Wrath, by NC Koussis (Review of the first edtion)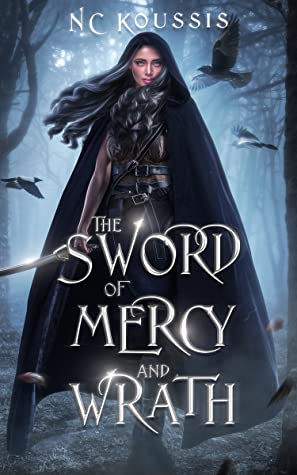 Synopsis:
VENGEANCE CUTS A BLOODY PATH
Selene wants revenge on the werewolves that destroyed her family and mutilated her body. When the secretive Order of the Golden Sword offers her the chance, she lets go of her past to become a fully-fledged Sword of the Order. Her pain drives her to excel at hunting and killing the creatures, drawing the attention of the unnerving Lord Inquisitor.
She's tasked with hunting her childhood love, Tristain. She must put her feelings aside and accept he's become a monster. But when she sees him for the first time in years, old feelings come rushing back, and she uncovers the dark secret about the monsters that the Order has kept hidden for centuries.
The Sword of Mercy and Wrath (TSoMaW) is the debut novel from the Aussie author NC Koussis. Let's highlight the most important thing in this novel: werewolves. Now in a more serious point, it works as a solid start novel for a universe that I want to deep dive into.
TSoMaW is narrated using a 3rd person dual PoV, featuring two main characters: Tristain and Selene. Tristain is a soldier which is appointed as part of a war that he didn't choose to fight and who after a traumatic event discovers how part of his inheritance allows him to transform into a creature. We are going to follow all his «evolution» path and how he is starting to discover the truth behind his transformation.
At the same time, we have Selene as a second PoV, and probably she is the one that took the spotlight more time, and my favourite character in the whole book. Something that is shared between the two main characters, apart from that they have grown together, is the fact that their life is changed after a traumatic event. In the case of Selene, she's attacked by a werewolf and loses her arm.
Probably this is one of my favourite points of the book, as it is not really common to feature a disabled character as one of the protagonists. Broken, she is abducted into the Order of the Golden Sword, a secretive religious order whose main proposal is to eliminate the werewolf plague; a really dangerous task. And here is probably where the writing shines, as we can clearly observe how they take advantage of her situation to build an absolute fanatic of the Order, using her brokenness as a sort of wipe; something that even in real life happens, as it is how some cults get members and turn them into fanatics.
Personally, I loved the gritty and dark world that NC Koussis paints in TSoMaW, and how well is built; the plot is solid and it has enough discovery path to keep you hooked between the pages. I have some problems with how the dual PoV is managed, as I think the Selene part is too hurried in comparison with Tristain's; I feel we could have got a little bit more juice if the book instead of being 250 pages had 400, as I would gladly read 150 pages more of just Selene's process.
Still, I think this is a really solid debut by NC Koussis. TSoMaW is a solid dark fantasy novel, featuring an interesting twist on the werewolf myth. It also establishes good pillars to construct a great universe, and the analysis of how traumatic events can be coped with in different ways is one of the most interesting I've read in fantasy. Do yourself and favor and get TSoMaW.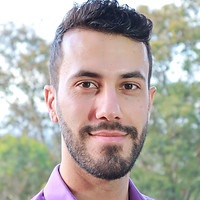 NC Koussis
NC Koussis was born in Perth in 1993 to Greek and Kamilaroi ancestry. He has moved all around Australia, settling in Newcastle for the moment, where he lives with his wife, son, and staffy dog, Nala. He's been writing fantasy books since he was a little boy, after falling in love with Lord of the Rings and Harry Potter. He decided to publish a book in 2019, and it only took him three years. He considers himself an enthusiastic amateur of medieval history, historical battles and tactics, and food. When he's not writing, he's making sourdough bread and working on a PhD in neuroscience.