The Swordman's Lament (The Royal Champion #1), by G.M. White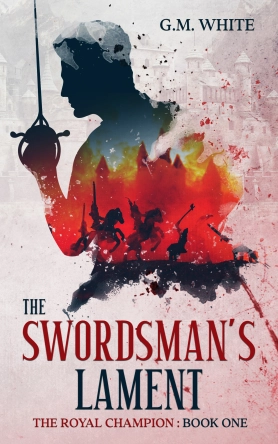 Synopsis:
When a prince is murdered, a legendary swordsman stands accused.
The King wants blood . . .
and loyalty counts for nothing.
Belasko thought he was beyond intrigues and machinations. But when the grief-stricken King demands vengeance, Belasko discovers he is expendable. His options are clear… find the real killer or satisfy the royal bloodlust.
With the forces of the palace mobilised against him he is thrust into the city's bleak underbelly and must fight to discover the truth. With betrayal around every corner he must form unlikely alliances. Can the veteran warrior survive long enough to protect his friends and prove his innocence?
My Review
(4.5 out of 5 )
The Swordman's Lament is technically the first novel in the Royal Champion series, by G.M. White. Let me start this review by saying that there is a prequel novella, The Swordman's Intent, situated 15 years before this first novel, which you can get for free by subscribing to G.M. White's newsletter; and I highly recommend reading it before because I think it really gives another layer of enjoyment to the novel.
We are introduced to Belasko, a famous swordsman that has been Royal Champion for fifteen years since he won the contest organized by the former Champion. Soon in the book, we are introduced to his skill and how good he is fighting, along with also some physical problem that is making him think in the retire. We are quickly set onto his main characteristics, how he is a really nice guy and one of the royal family confidents.
And what happens to change this situation? The prince gets assassinated and Belasko is accused of being responsible. We are also introduced to some of the nobility intrigues, and how the Inquisition is responsible for imparting justice. And here is where I personally think having read The Swordman's Intent helped, as we are introduced to Ervan, one of the main Inquisitors, who has hated Belasko for years, since the tournament where Belasko ascended to Royal Champion.
Won't talk much more about the plot, except to say that it becomes a brilliant thriller, maybe too short for my taste, but which is solved brilliantly and whose pace is exceptionally good, as G.M. White takes the moments where Belasko is thinking to introduce some flashbacks of his past and how he gained the fame. It is true that there are some conveniences introduced, as tends to happen in mystery-solving novels, but it's not something that really mattered in the end. Mention apart is deserved by one of the elements that shine over the rest, how well written the duels are, you almost can feel as if you were watching them yourself.
Characters are well developed, especially through their past and their relationship with Belasko, as due to his role in the novel, he is known by everybody and has worked with almost any soldier. The royal family is really interesting, as we are introduced to three really different members: the king, the carefree prince, and the kind princess; each one of them will play a key role in the story.
In summary, The Swordsman's Lament is a brilliant novel, perfect for lovers of low fantasy settings. Due to its length, you can take and read it in one relaxing afternoon, which is a really enjoyable experience. I finished really happy with the result, and we will come back to the Royal Champion world for the review of The Swordsman's Descent.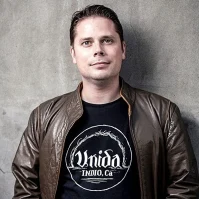 G.M. White
G.M. White has always been an avid reader, a love of the written word instilled in him by his parents at an early age. This may or may not have something to do with the fact that he was a very talkative child and the only time he was quiet was when he had his head in a book. Anyway, we'll give them the benefit of the doubt on that one.
A lifelong daydreamer he finally decided to put his imagination to good use and set pen to paper (well, fingers to keyboard) and started to write down the worlds that he carried with him in his head. The Swordsman's Lament is his first novel.
He has also had the typical author's chequered job history. He has been at various times an actor, a performer at The London Dungeons, a theatre usher and box office clerk, a ticketing systems specialist working at the Ambassador Theatre Group, National Theatre, and Royal Albert Hall, and played drums in a variety of rock bands.
After thirteen years living and working in London he and his wife gave up the rat race, and moved to St. Martin's in the Isles of Scilly, where they continue to live.