The World Maker Parable (An Adjacent Monsters Nightmare), by Luke Tarzian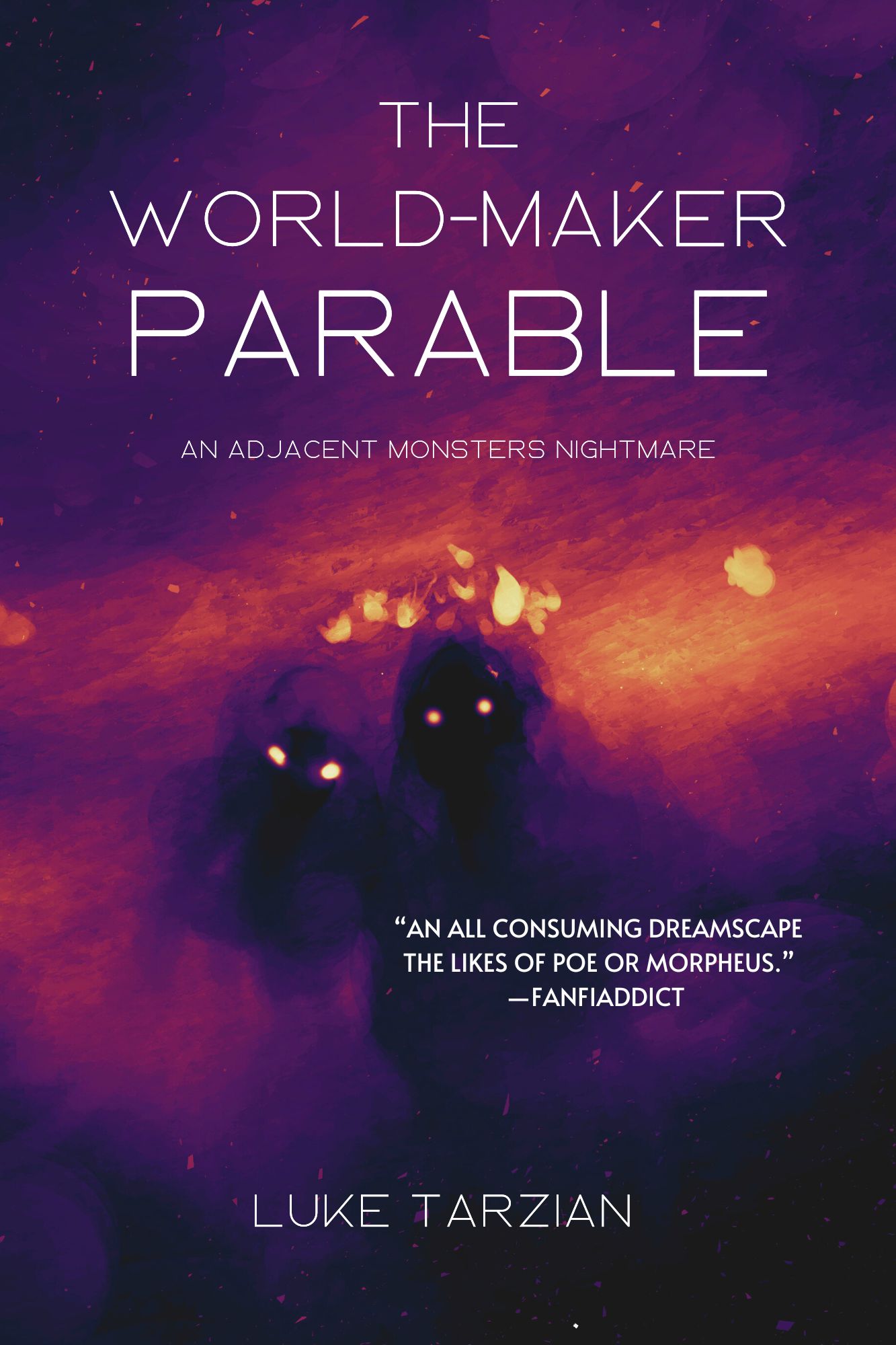 Synopsis:
Guilt will always call you back...
Rhona is a faithful servant of the country Jémoon and a woman in love. Everything changes when her beloved sets the ravenous Vulture goddess loose upon the land. Forced to execute the woman she loves for committing treason, Rhona discovers a profound correlation between morality and truth. A connection that might save her people or annihilate them all.
You are a lie...
Varésh Lúm-talé is many things, most of all a genocidal liar. A falsity searching for the Phoenix goddess whom he believes can help him rectify his atrocities. Such an undertaking is an arduous one for a man with missing memories and a conscience set on rending him from inside out. A man whose journey leads to Hang-Dead Forest and a meeting with a Vulture goddess who is not entirely as she seems.
The World Maker Parable is a dark fantasy novella, which is part of Adjacent Monsters, written by Luke Tarzian. It is a complex book to analyze, as Tarzian takes us in what we could call a metaphorical experience built around trauma and guilt, in multiple layers and using several timelines which make following the plot a bit difficult.
If there are two aspects in where Tarzian excels, those are the atmosphere and the emotions. He has made an excellent job at transmitting the sensation of a world in decay, a grim place, rotting in time, showing sometimes the same experience from different POVs. It is difficult to separate this atmosphere from the emotions the characters are showing and expressing; few books will be as excellent in this particular aspect.
However, I found myself at some points trying to guess how the plot was evolving, confused at times due to how the novella is layered; it requires your full focus to grasp all the meaning behind the words. Despite there are only two POVs, in moments, it feels like they multiply into multiple ones, due to the amount of temporal jumps..
In general, I found The World Maker Parable to be an extremely strong novella in some aspects but which becomes confusing at points. If you are into dark fantasy and would like to have a quite unique experience, Luke Tarzian's books are definitely what you are looking for.
Disclaimer: This novella has been read as part of the SFINCS. This review/rating only represents my personal opinion and it might differ with what the team decides.