Tropical Punch (Bubbles in Space #1), by S.C. Jensen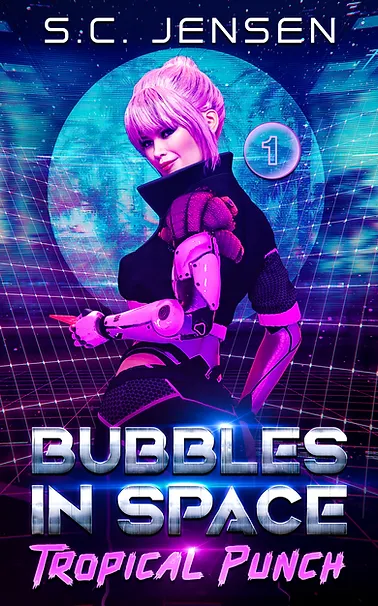 Synopsis:
Strippers, Drugs, and Headless Corpses…
All in a day's work for Bubbles Marlowe, HoloCity's only cyborg detective.
What do an anti-tech cult, a deadly new street drug, and the corrupt Chief of Police have in common?
It's a question Bubbles can't afford to ask. The last time she got curious it cost her job, a limb, and almost her life.
She vows to stay out of police business. But with a newly minted cybernetic enhancement, a semi-legal P.I. license, and a knack for asking the wrong kind of questions… Vows are made to be broken, right?
When a seemingly straightforward contract takes a dark turn, heads literally roll. Unless she wants to take the fall for the murders Bubbles needs to cut down on the double. Too bad she's flat broke.
And now, she's being hunted.
In a world where dreams can be made real for the right kind of dough, nothing is as it seems. One thing is clear, though. The dream is becoming a nightmare.
As the body count stacks up, Bubbles realizes she's made a terrible mistake.
Can she figure out who is behind the murders before she loses her head?
My Review (4.5 out of 5 )
Disclaimer: This score is not representative of what was given for SPSFC2.
Time for the second of the SPSFC2 Quarterfinalist reviews! And the chosen one is Tropical Punch, the first book in the Bubbles in Space series, by the Canadian writer S.C. Jensen. And honestly, after finishing it, I can understand why my teammates liked it so much, because definitely, it's a really entertaining novel, with an intelligent plot and a love message to the pulps, being a sci-fi version of twentieth-century P.I. novels.
And to be fair, this novel can't be separated from its main character, Bubbles Marlowe, P.I., an ex-police who got retired from the police of Holocity, snarky and sarcastic. After losing an arm due to the corruption in the police, she has to use a prosthesis to substitute the lost part, and as happens with many people who suffer this kind of problem in real life, she still has phantom pains. And to be fair, several people want to see her dead.
The rest of the characters don't get too far, as can be Hammett, her AI pig pet, provides common sense to our crazy protagonist, while still having some humorous moments; and Cosmo is also a character I would like to read more about. The Rose is also a character with a brief appearance, but is memorable in it, serving as the official voice of The Last Humanist Church, an organization that is against the cybernetic enhancements that are common in this dystopic world.
The whole story is set in HoloCity and in the cruises that are common there, a sort of cyberpunk futuristic city, a place where drugs and corruption have taken over, where it is common for people to enhance themselves with implants; a world that gets explored through the eyes of Bubbles and her experiences there. While it fell a little for being generic, the own touches that the author gives to it help to spark some unique details, such as the Last Humanist Church.
Plot is another element that feels like a homage to the classic detective stories, but with the sci-fi twist, having a really agile pace, without a single moment that can feel dull or unnecessary, all of them adding either to the aesthetics of the novel, or even sometimes just setting our expectations for what it is a thriller story, well driven, and that doesn't need to use an unexpected twist to maintain our interest on it.
Tropical Punch is an excellent novel, one that will be loved by those who enjoy detective stories, and who want a different take on them. It also features an interesting representation of disability, in a really positive light. I totally understand why my teammates chose it as their quarterfinalist, as I loved it myself.