Werewolves Don't Celebrate Hanukkah, by Michelle Franklin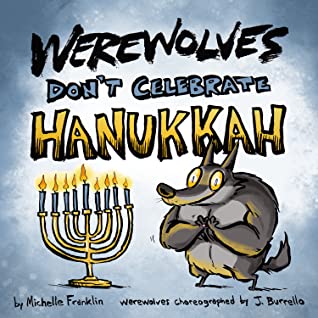 Synopsis:
There are two wolves inside of you: one eats all the latkes, and the other hides the presents.
A charming yet informative book about Hanukkah and its traditions, and how to share them with werewolves.
Written by acclaimed fantasy author Michelle Franklin, and lovingly illustrated by famed cartoonist and werewolf wrangler Jonathan Burrello.
First of all, let me say thanks to Michelle Franklin for being kind and giving me an ARC of this marvelous book.
For somebody whose knowledge of Jewish traditions is near zero, this book is a really informative and fun way to learn about these, especially with the illustrations of J. Burrello.
An awesome and cute read, that can be a perfect gift for this kind of date! Also, don't forget, don't give chocolate to your werewolves!