Where It Rains In Color, by Denise Crittendon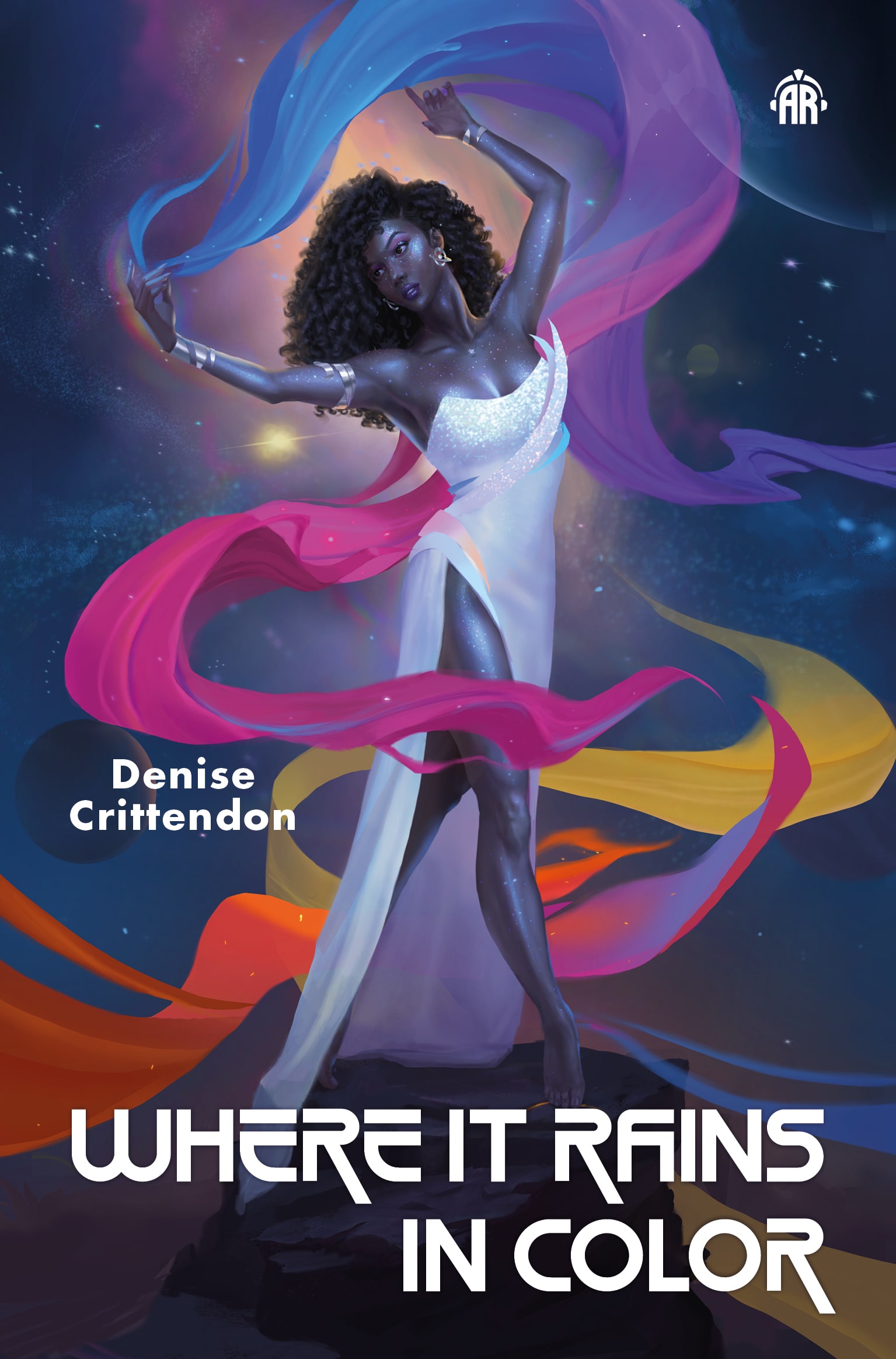 Synopsis:
Swazembi is a blazing, color-rich utopia and the vacation center of the galaxy. This idyllic, peace-loving world is home to waterless seas, filled with cascading neon vapors, where tourists and residents alike soar from place to place in a swift wind force called The Sweep. No one is used to serious trouble here, especially Lileala.
Lileala is a pampered, young 50-year-old whose radiance has just earned her the revered title of Rare Indigo, the highest and most sacred of honours. But, her perfect lifestyle is shattered when a band of drug-addicts from a dying planet come up with a way to infect her with a fatal skin disease. They succeed and the unthinkable happens – Lileala Walata Sundiata loses her ability to shimmer. Where her skin should glisten like diamonds mixed with coal, instead it dulls and forms scar tissue. And she starts to hear voices in her head.
Distraught over her condition, she flees to the village where her Rare Indigo predecessor, Ahonotay, is said to be hiding. Ahonotay reveals a destiny to Lileala that awakens a new power inside her and she realises her whole life - and the galaxy - is about to change…
Where It Rains In Color by Denise Crittendon is an interesting sci-fi proposal that mixes Afrofuturism with a dystopian sci-fi setting, with some touches of the Dogon mythology, adding an extra touch of flavour to this novel. The novel is mainly set on Swazembi, a planet where people can make their skin shimmer and hold power, being a tourist attraction for outsiders; life in Swazembi is close to a utopic one.
We are going to be following Lileana, our main character, who has been chosen as the Rare Indigo among the rest of the Aspirants, a symbol of beauty and grace without a real voice. The previous Rare Indigo, Ahohanay, abdicated from her role many decades ago, bringing extra expectations to Lileana.
Like many utopias in fiction, it doesn't last for long. Foreigners bring disease to the planet, affecting Lileana, and covering her previous beautiful skin with keloids, and making her lose the ability to make it shimmer as intended, bringing her pain as a result of this illness. As the position of Rare Indigo is mostly one associated with beauty, how this illness is disfiguring her skin is received as a big shock.
Shortly after, she starts to hear voices, voices that may be related to the ancestry of Swazembi people, and their relationship with Dogon tribe. Also, we get to know that apparently there is a cure for the illness, provided by the Klab, requiring Lileana to be brought to an asteroid to be treated; and for somebody whose status depends on the beauty of her skin, there aren't many alternatives but to accept this situation. At the same time, and with these voices in her head, Lileana starts a path of self-discovering and a path to discover the truth of their past.
Worldbuilding in this novel is really sweet, with a main planet as Swazembi, which makes you want to know more about it. There are several scenes depicting the rituals and practices of Swazembi natives, and how the melanin of their skins is used to generate colourful spectacles, and Crittendon has the talent to make you live these scenes. The utopian world where beauty is part of status also serves as a way to think about the beauty standards, and how much suffering they can bring when enforced.
Lileana makes me have contradictory thoughts. While it is true that I didn't really like her during the first part of the book, as it feels that she's just a capricious and spoiled person, the path of discovering and empowering she starts after acquiring this disfiguring illness is one that I certainly loved and that I would have loved to know more about it. The growth of this character is real.
Where It Rains In Color is a great debut novel, one that I hope gets continued with more books, as the universe painted is amazing. While I think the pace in the first part is slow for my taste, I absolutely loved the book once the utopia is broken; and the story becomes really engaging. This novel is great for people who want a colourful worldbuilding, a sci-fi universe inspired by African traditions, and for those who want to think more about themes like beauty, status, and power.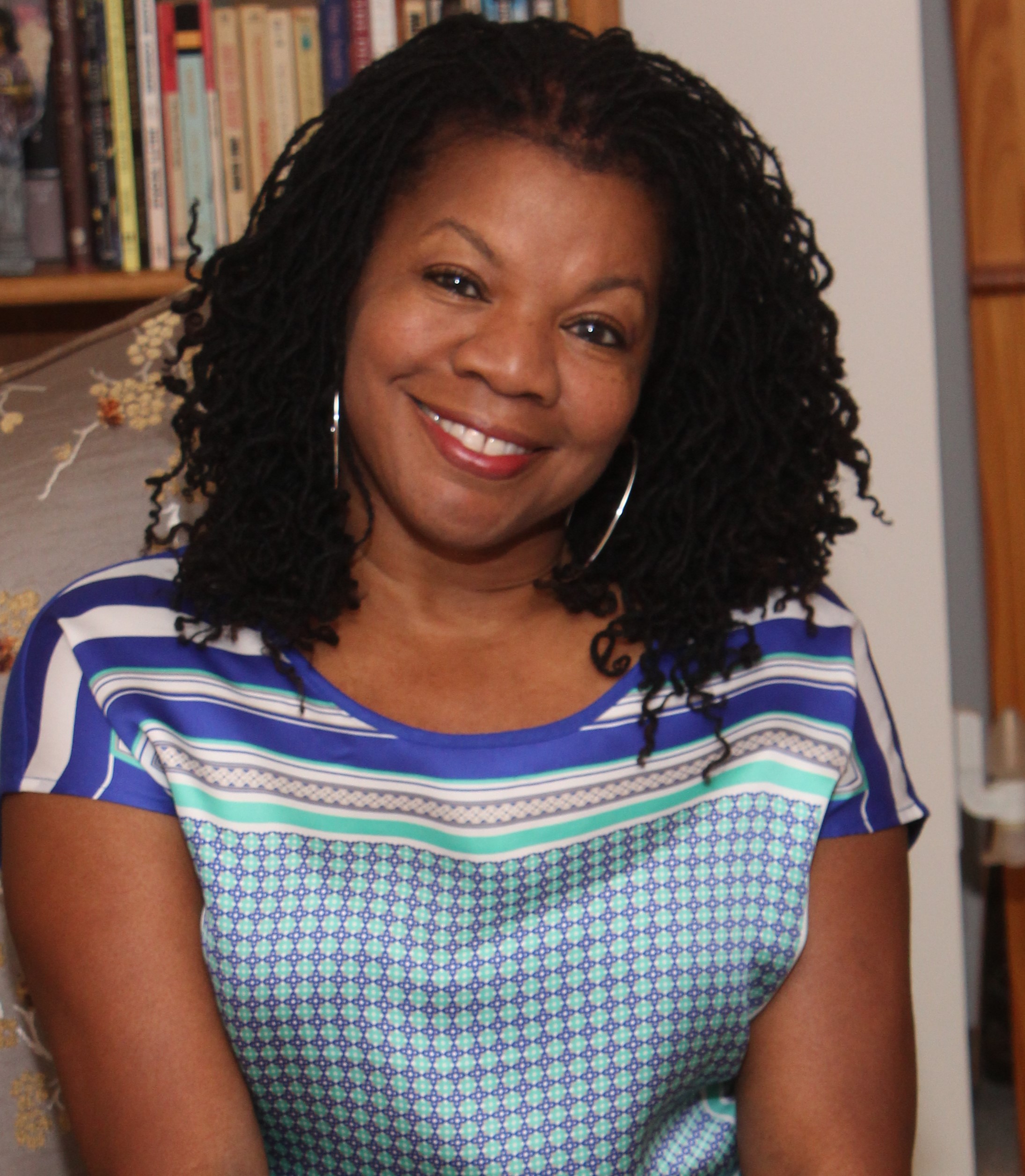 Denise Crittendon
A veteran journalist, Denise Crittendon has been writing for so long she sometimes wonders if she has ink in her blood. Her career includes two major metropolitan daily newspapers and stints as editor-in-chief of two magazines, one national and one based in her hometown, Detroit. She lives in her native city six months out of the year and spends the rest of her time near relatives in Spring Valley, Nevada.